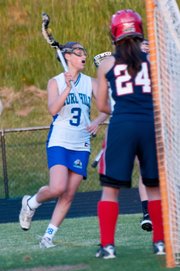 Potomac — Near the end of the regular season, the Churchill girls' lacrosse team had to battle influenza, which affected leading scorer Mairin Hall and several other players. On May 11, the No. 2 seed Bulldogs escaped with a one-goal victory against rival Wootton in the 4A/3A West Region quarterfinals. On Monday, Churchill overcame the elements and a potent Blake offense in the semifinals.
Churchill's path to a fourth consecutive region final appearance hasn't been easy, but the Bulldogs completed the task with a 21-16 victory over the Bengals at CHS. Playing in wet conditions, Churchill had three players score at least four goals, including a team-high seven by Maddy Flax.
Now, the Bulldogs will have to travel for a region championship game for the first time during their four-year run as Churchill will take on No. 1 Sherwood on Wednesday, May 16. Churchill defeated Sherwood in each of the last two region finals in Potomac. While a 15-mile trip to Sandy Spring adds an element of difficulty to a potential three-peat, Churchill head coach Christen Gjeldum said it could help the Bulldogs from a psychological standpoint.
"This will be the first time going away for a regional [final]," said Gjeldum, whose Bulldogs finished region runner-up in 2009, "but I think that's just going to bring more motivation to us to win since we have to go on the road all that way to Sherwood."
Churchill earned the chance to play for a third straight region title with a high-octane offensive effort. The Bulldogs outscored Blake 5-0 during the final 4 minutes, 52 seconds of the first half to take a 12-7 halftime lead. In the second half, Churchill continued pouring in the goals and at one point led by as many as eight.
Along with Flax's seven goals, Hall finished with six and Megan Brody added four. Eliza Farha scored two goals and Bailey Boyland and Emily Muscarella each had one.
"Defense wins games," Flax said, "but offense also gets you on the board, so we knew we had to come out strong."
With illness and injuries taking their toll on Churchill at the end of the regular season — including a loss to Quince Orchard on May 4 — Monday's game against Blake was the first time in awhile the Bulldogs had been at full strength, Gjeldum said.
"We had a little bit of a setback when we had a lot of people out, so it was nice to regroup," Hall said. "Our last couple of practices have been really intense with everyone back and we just decided we were going to play our game that we know how to play. We've really picked over the last two games."
Churchill defeated Sherwood, 11-8, in the 2011 region final and, 17-7, in 2010. The two teams did not play during the 2012 regular season.
"[O]n the road, it's even more intense," Hall said. "We want to win; we want to win three times in a row so that's the mentality: whatever it takes. … We had it in the back of our minds that we have a pretty good chance that we would play Sherwood, so we were always preparing for that. We played them the last two years, so it's just kind of like a rivalry at this point."