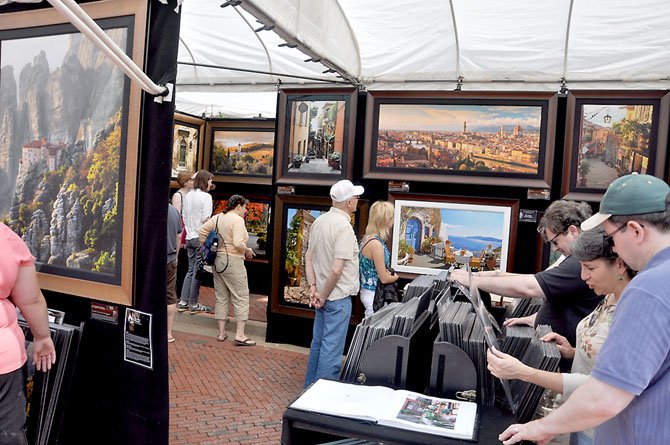 The Greater Reston Arts Center (GRACE) revealed its list of artists set to illuminate Reston Town Center for the 21st Annual Northern Virginia Fine Arts Festival on weekend May 18-20. Over 200 of the nation's most accomplished artists, from across the U.S., will showcase their hand-crafted, one of a kind works of art from categories such as; 2D & 3D, Mixed Media, Ceramics, Decorative Fibers, Drawing and Pastels, Furniture, Glass, Jewelry, Leather, Metal, Oil & Acrylic Painting, Photography, Printmaking, Sculpture, Watercolor, Wearable Art, and Wood. New this year, the festival will open on Friday night, May 18 featuring an upscale opening party from 6:30-10 p.m. and approximately 175 artist booths open from 5-8 p.m. that evening.


THIS YEAR approximately 900 artists from across the U.S. and Canada submitted applications. This year festival jurors, who are experts in their fields, were only able to select 200 artists on the basis of quality, originality and craftsmanship to participate in the largest fine arts festival in the DC Metro area. Of the 200 selected artists, 39 are new participants to the 2012 Festival. Notable first-time artists include mixed-media artist Kathrine Allen-Coleman, jeweler Roberto Vengoechea, sculptor Gregory Story and wearable artist Kathleen Tesnakis. Ann Barbieri, Dana Ann Scheurer, Ginny Herzog, and Connie Slack are among those returning artists who have participated in a majority of GRACE's Festivals over the past 21 years.
50 local artists will represent the Mid-Atlantic region and the furthest traveling artist is Giampietro Filippetti from Oakville, in Ontario, Canada. The complete listing artist profiles and line-up is available at: http://www.northernvirginiafineartsfestival.org/2012Artists/artistList.php.
Children will have fun creating music related art projects inspired by the festival's performing art group, the International Contemporary Ensemble. and will also get a preview of the many children's educational programs offered by GRACE in the Children's Art Tent. The 2012 art activities include: Explore More! Art Buckets, GRACE Art Artist Trading Cards, Summer Art Camp Musical Monsters, Festival Paper Bag Hats, Scout Badge Program Musical Instruments, and the Community Mural and Chalk Walk. The Children's Art Tent is open Saturday, 10 a.m. to 5 p.m. and Sunday, 10 a.m. to 4 p.m. Admission is free.
A complete listing of Festival activities, opening night party details, and sponsors are listed at http://www.northernvirginiafineartsfestival.org/.


OPENING NIGHT PARTY: Friday, May 18, 6:30 p.m. – 10 p.m. Town Center Pavilion. Tickets are $100 and available at festival website. Guest will receive a coupon good for 10 percent off one piece of artwork from participating festival artists.
Cost: Admission to the event is free, however for a voluntary donation of $10 to GRACE at the event's ArtCarts, visitors will receive a $10 gift certificate to dine at participating Reston Town Center restaurants such as American Tap Room, Big Bowl, Il Fornaio, Uno Chicago Grill, Paolo's, and Mon Ami Gabi. Donation proceeds benefit year round educational and outreach programs produced by GRACE throughout the Northern Virginia area.
For additional information about GRACE, the Northern Virginia Arts Festival, sponsorship or volunteer opportunities visit www.RestonArts.org or www.NorthernVirginiaFineArtsFestival.org.