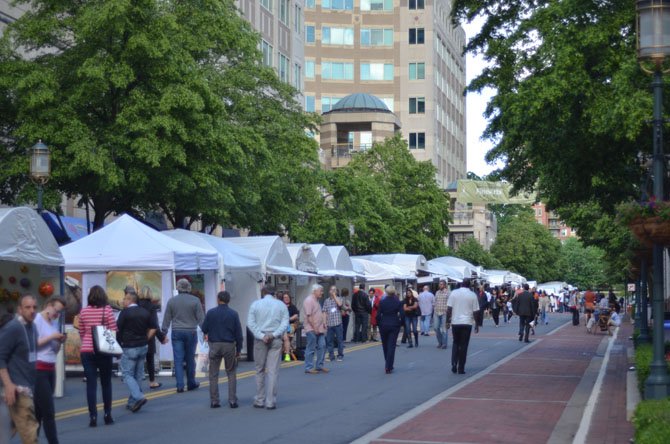 "I think the opening night could not be better," said Derryl Harris, a board member of Greater Reston Arts Center (GRACE). Harris attended the Friday opening night event for the Northern Virginia Fine Arts Festival. The festival, an annual event produced by GRACE, is a competitive, juried, outdoor event showcasing some of the finest contemporary fine art and craft. Each year the Festival features over 200 skilled artisans who utilize both traditional and unconventional materials and techniques to create, hand-crafted, original works of art available for purchase. The diversity of fine art and fine craft at the Festival, now in its 23rd year, ensures there were many tastes. A highlight of the Festival is the opportunity to interact directly with the artists.
The Northern Virginia Fine Arts Festival benefits the nonprofit Greater Reston Arts Center, now celebrating its 40th year, and provides critical support for the Center's mission and operations. It is a success each year due to the continued support of the community, sponsors and volunteers. A $5 entry donation to the festival on Saturday and Sunday was requested of visitors, which supports the Greater Reston Arts Center's mission, operations, and programs in the community. The 2014 Northern Virginia Fine Arts Festival was held in the streets of Reston Town Center.
"I feel the artwork here is great, this year the artwork seems to be up a notch," said Edward Melick, a resident of Oak Hill who accompanied his daughter to view the art on Friday evening.
Festivities began Friday, May 16 with a ticketed Opening Night Party in the Pavilion featuring music, cocktails and hors d'oeuvers, and a quality silent auction. Approximately 300 persons put in reservations for the party event. Guest speakers of the evening included Jacqui Jeras, meteorologist with ABC7/WJLA, Supervisor Cathy Hudgins, and architect Mike Timcheck with The M Group. GRACE staff made sure to thank sponsors including KIA, Reston Town Center Association, The M Group, and Celebrity Cruises.
"In supporting the festival you are supporting GRACE," said Executive Director and Curator of Reston GRACE Holly Koons McCullough. "Thank you for being here."
To learn more about GRACE visit www.restonarts.org.