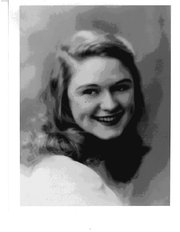 Elizabeth Hyland, 84, an author who wrote extensively about schizophrenia and was a past president of the Writers of Chantilly literary organization, died April 22 at Cameron Glen nursing home in Reston. She had cancer.
Hyland, who wrote primarily as Betty Hyland, was best known for her 1987 novel "The Girl With the Crazy Brother," about a teenager struggling with the social impact of her schizophrenic sibling. The book became the basis for a 1990 CBS teleplay directed by Diane Keaton and starring Patricia Arquette.
Hyland's son Mark was in his 20s when he was diagnosed with schizophrenia in the early 1970s. Hyland was active in support groups on mental illness, especially the National Alliance on Mental Illness. She won a grant that enabled her to study the treatment of mental illness in China.
Hyland was winner of the 1993 Eugene V. Debs Essay Award for her essay on schizophrenia, "A Thousand Cloudy Days";
Elizabeth Ann Sheehan was born in Queens and graduated from the Katharine Gibbs School in New York. She did secretarial work in New York, and in the English Department at the California Institute of Technology, before settling in northern Virginia in the early 1990s. She was a Reston resident for the past 10 years, a proud member of the Lake Anne community.
In addition to her books on schizophrenia, she also wrote mysteries featuring Benedictine nuns. Betty Hyland was a member of the Society of Children's Book Writers, Sisters in Crime and P.E.N. USA.
Her husband, Carl A. Hyland, whom she married in 1950, died in 1970. Their son Mark Hyland died in 1999.
Survivors include two sons, Carl A. Hyland of Oakton and Jason Hyland, a Foreign Service officer in Canberra, Australia; a sister; and six grandchildren.
A funeral mass and memorial will be held at St. John Neumann Catholic Church Friday, May 25 at 10 a.m.