Jessica Raugitinane, a graduate of T.C. Williams High School, Alexandria, has been honored by the Alma Exley Scholarship Program, which promotes greater diversity in the teaching profession.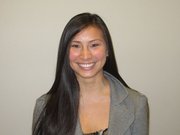 Raugitinane is a junior in the five-year Integrated bachelor's and master's program at the University of Connecticut, where she is pursuing a triple major in Elementary Education, English and Spanish and a minor in Latino Studies.
A consistent dean's list student, she has an outstanding record of public service in education. She has taught in the Dominican Republic with International Student Volunteers, and has served as a tutor, mentor or teacher's assistant in schools in Connecticut as well as in Alexandria, and Washington, D.C.
Raugitinane joins 22 others previously honored in the program, which has awarded approximately $50,000 in scholarships since its inception in 1996.