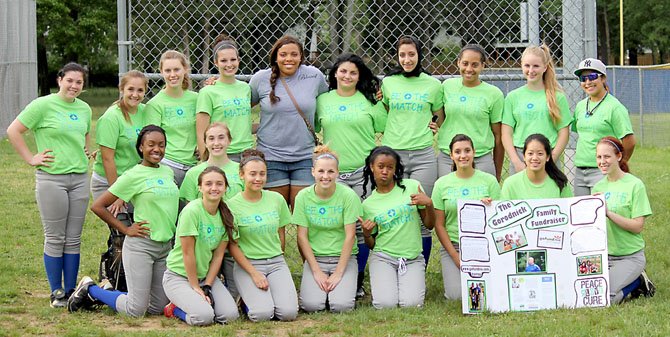 Springfield — On Monday, May 7, a special girls' softball game was played at Lee High School between the home team Lancers and guest W.T. Woodson. The regular season Patriot District matchup between the two teams had a greater purpose, however.
Dubbed as the 'Be The Match Game,' the contest served as a benefit fundraiser event to support the family of former Robinson Secondary girls softball coach Barry Gorodnick. The popular Gorodnick, who led the Rams' softball program for over 20 years, died this past Saturday, May 12.
Lee softball coach Suzi Willemssen, who was a friend of Gorodnick, was pleased that the Springfield school was able to host the May 7 game in coach Gorodnick's honor. The contest was originally scheduled for Friday, May 4, but rain forced postponement and it was re-scheduled and played the following Monday.
"The team didn't know Coach 'G,' but knew it would mean a lot to me to do something for him," said Willemssen. "The Lee young ladies are awesome. They really made it a nice tribute and were very saddened when I told them that he had passed away."
Legendary Northern Virginia softball figure Dorian Shaw threw out the traditional first pitch to Lee catcher Maryanne Lavelle.
The special event ball game, Willemssen said, raised over $500 for the Gorodnick family. The Lancers players have also been selling bracelets in Coach Gorodnick's honor. The bracelets will also be on sale at the upcoming Patriot District tournament semifinals and finals games.