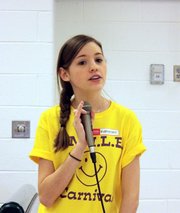 Katelyn Sparks, a South County Secondary School freshman, recently achieved the prestigious Girl Scout Gold Award for something she does every day - SMILE.
SMILE – an acronym for Socially Mutually Involved Life Enhancement – was the name Sparks gave her service project, which earned her the Gold Award, comparable to the Boy Scout Eagle Award.
The SMILE Carnival, held at South County Secondary School last month, provided socialization opportunities for teens and adults with disabilities from across Fairfax County, while at the same time providing hand-on volunteer opportunities for more than 65 non-disabled teens.
"Teens and adults with special needs don't often have the chance to interact with those without disabilities in a fun environment," Sparks said. "Also, many teens without disabilities don't have experience interacting with the special needs population, so they can feel uncomfortable or indifferent towards them. I wanted to change that."
Sparks said her volunteer work with special-needs adults at the Friendship Club - a mission of Christ Church in Fairfax Station – was the inspiration for her project.
"The carnival was a huge success," said Maria Frazzini, the leader of Girl Scout Troop 374 in Lorton, where Sparks will continue to participate.
"In a survey following the carnival, 82 percent of teen volunteers said they had more compassion for the special needs population, and 100 percent said they would be more helpful and friendly to individuals with special needs in the future," Frazzini said.