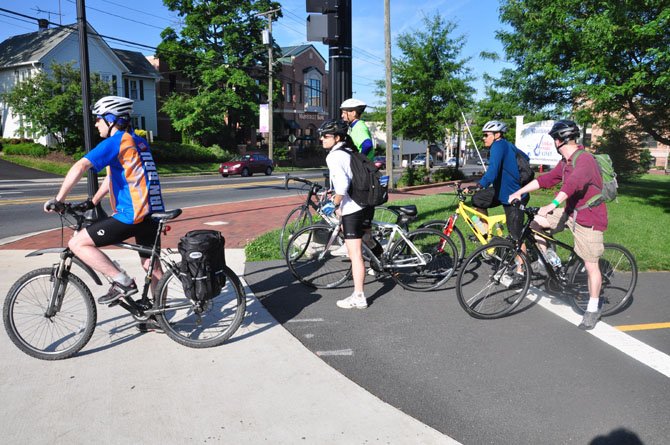 Herndon — Hundreds of bikers who decided to forego their cars during their commute were welcomed in downtown Herndon Friday, May 18, one of 58 pit stops around the Washington, D.C. area during the day. The day was the culmination of National Bike to Work Week, and last year's Bike to Work Day featured more than 11,000 participants locally.
Cyclists who passed through Herndon on the W and OD trail could stop for some breakfast, drinks and even a bicycle tune up if needed.
"We wanted to highlight the difference riding a bike to work can make, whether it's on the environment, traffic or quality of life," said Sarah Velasquez of A-1 Cycling. "We had almost 280 people register for today, up from about 215 last year. We've also seen a lot of groups getting together and organizing to commute as a group."
A-1 Cycling co-sponsored the pit stop with the Town of Herndon. Cindy Roeder, director of the town's Parks and Recreation Department, said another goal of the event was to highlight the W and OD Trail.
"We certainly want to encourage activities and show the benefits of the trail, one of the area's most famous linear parks," she said. "It's been an event that has kept growing, and we've seen a lot of people who have come out who didn't officially register. One man said today was his 700th consecutive day biking to work, and today was his birthday."
Ben Heathcote of Sterling hasn't come close to that many days, but after getting a top-of-the-line bike for Christmas, he said he's trying to make it a regular part of his life.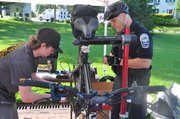 "My New Year's Resolution was to get out and bike more, since it's something I really hadn't done since college. I think I've probably biked from my house to my office in Vienna about a dozen times this year, mostly in the last month," he said. "I'm not as hardcore as I should be I guess, because I only really do it on nice days, when I've planned for it. But if they had snacks here every day, I'm sure I'd be more of a regular."
Mike Calumet of Reston says he loves biking to his job in Ashburn, but says the biking itself isn't what keeps him from doing it more regularly.
"If it was as simple as riding there and back every day, I'd do it even in the winter, that's how much I like it," he said. "But the problem comes when you get there. If I've got a big meeting, I can't be all sweaty, and for the sake of my office-mates, I usually need to change clothes. It's a whole other level of logistics, and it can be hard to find a shower near the office. If those things were present though, I'd have no problem doing a majority of my commuting on my bike."
Bike to Work Day started in 1956 through the efforts of the League of American Bicyclists to create an alternative to driving alone.