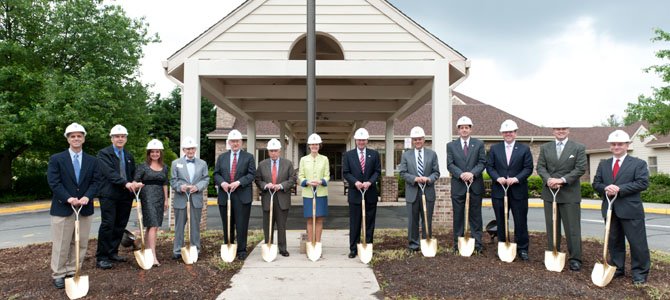 Despite the dreary weather on Monday, May 14, more than 200 people, including U.S. Rep. Frank Wolf (R-10) and Supervisor John Foust (D- Drainsville), braved the elements to celebrate and show their support as Vinson Hall Retirement Community broke ground to begin construction on a large expansion project.
This project represents a culmination of more than four years of planning to expand Vinson Hall Retirement Community's facilities to meet the needs of veterans, seniors and members of the local community.
For more than forty years Vinson Hall Retirement Community has been home to commissioned military officers and their immediate family members. Now also open to employees of equal rank from select federal agencies, the community is expanding to meet growing housing and rehabilitation needs in the McLean area.
Over the next three years the community's independent living residence, Vinson Hall, will add a new building housing 75 new apartment homes, ranging in size from 1,200 to 2,100 square feet, and featuring underground parking.
Also planned for the property is a new community center, which will feature a grill-style bistro, a library, a large auditorium that will be available for select public use, and a state-of-the-art rehabilitation center that will serve the needs of seniors, veterans and the local community.
As Vinson Hall Retirement Community moves forward with this expansion, it has committed to renovating several apartments to serve as transitional housing for wounded warriors, who stand to benefit from a supportive environment close to the nation's capital that can accommodate their unique needs. Donations to the Navy Marine Coast Guard Residence Foundation, a 501(c)(3) organization that raises funds to support the mission and vision of Vinson Hall Retirement Community, can be made in support of the Wounded Warrior Transitional Housing Project at www.nmcgrf.org.
Vinson Hall Retirement Community is no stranger to expansion. Opened in 1969, its independent living residence was originally intended to provide affordable housing for sea services officers' widows who were not left sufficient funds to live in dignity when their husbands passed away. Then in 1987, Arleigh Burke Pavilion, an assisted living and healthcare residence, was added, and in 1996, The Sylvestery, a secure assisted living residence serving those with memory loss was opened. Military affiliation is not required for residency at Arleigh Burke Pavilion or The Sylvestery.