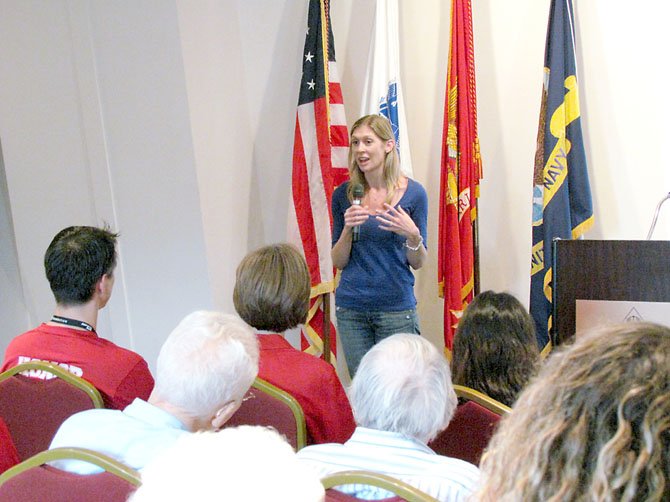 As part of the third annual Pat Tillman Leadership Summit, Marie Tillman, Pat Tillman Foundation Co-Founder and President, joined 20 Tillman Military Scholars participating in a service project at Vinson Hall Retirement Community on Monday, July 22.
The Tillman Foundation was established in honor of Pat Tillman, a pro-football player who put his NFL career on hold in 2002 to enlist in the military, and was killed two years later in Afghanistan.

The organization helps foot the bill for veterans, active service members and their spouses who are heading back to school. An integral part of the Tillman Foundation's mission is leadership and service, making it a natural fit for the Tillman Military scholars to partner with local nonprofits on a day of Service to make an impact.
Some volunteers spent the afternoon engaged in an intergenerational debate with residents at Vinson Hall, the retirement community's independent living residence that commissioned military officers, their immediate family members, and federal employees from select agencies have called home for more than 40 years. Others joined residents at Arleigh Burke Pavilion, the community's assisted living and healthcare residence, and The Sylvestery, a memory support assisted living residence, for "Olympic Games" activities.
Army veteran and Tillman Scholar Alex Brown said, "We're not solving the world's problems here, but what we are doing is having great discussions. We're learning from their past experiences, they're learning from our current experiences and it's just a way to continue to give back to the community."
Jessi Tseng, another scholar, added, "It's really, really rare to be surrounded by a group of people who share the same experiences as you in the military and want to better their lives and are doing it in drastic ways."
Of the five service sites that Tillman Scholars visited on Monday, Vinson Hall Retirement Community, located in McLean, was chosen as the site where Marie Tillman joined Tillman Military Scholars and other volunteers. She shared a little about her life's journey with Pat and how his loss inspired her to honor his legacy through the work of the Foundation.
"This Summit provides Scholars the opportunity to meet in person to share their experiences with and learn from each other, and also serves as a platform to show the collective impact of veteran and military spouse leaders," Tillman said.