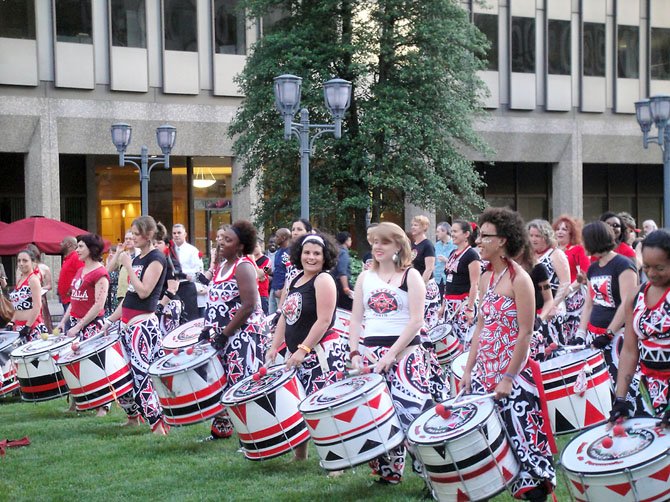 Arlington — On Friday, May 18, an immense display of synchronized drumbeats and vibrant rhythms performed by Batala Washington hailed the grand opening of Artomatic 2012.
Artomatic
After a three-year hiatus, Artomatic returns to the Washington, D.C. area. The 11-story office building at 1851 South Bell St. in Crystal City has been converted to a gallery. There are 1,300 artists with work on display, which means no single trip can do the event justice. Artomatic is free, and proper identification is required for alcoholic purchases at cash bars. Hours are Wednesdays and Thursdays from noon to 10 p.m., Fridays and Saturdays noon to 1 a.m., and Sundays noon to 5 p.m. Artomatic is closed Mondays and Tuesdays. For more information and list of planned events visit: artomatic.org.
Forty all-female members drummed the signature Brazilian-reggae-samba tunes of Giba GonÁalves, who created the international Batala groups in 1997. The Washington, D.C. chapter is one of 23 ensembles that perform worldwide.
"We're very excited to play at Artomatic, we're really amped," said conductor Ellen Arnold Losey. "A lot of the women joined after hearing us the last time we played at Artomatic in 2009."
Many in the audience were keen to take up the offer. "It was fantastic, I want to join now," said Alexandria native Arden Colley. "It was worth coming out just to see that."
This year's Artomatic boasts 1,300 artists in the largest location to date for the D.C. area's chief artistic event — the 11 stories of 1851 S. Bell St. in Crystal City.
"This is by far the biggest and best Artomatic ever, the energy is just vibrant," said Angela Fox, president and CEO of the Crystal City Business Improvement District. "The message is clear: Crystal City is at a new playing field."
Photo Gallery
Artomatic 2012 Opens in Arlington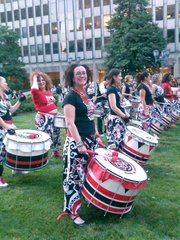 Click Photo for Flash
Unlike in years past, the Crystal City location does not have walls separating installations. The result is an array of amateur and professional work placed side-by-side.
The extent of this year's Artomatic, however, means visitors will have to return multiple times to catch it all. Fox estimates that as many as 100,000 people will visit before the June 23 closing.
"It's fun and fabulous and wild out there," said Fox. "Expect the unexpected and make time to explore."