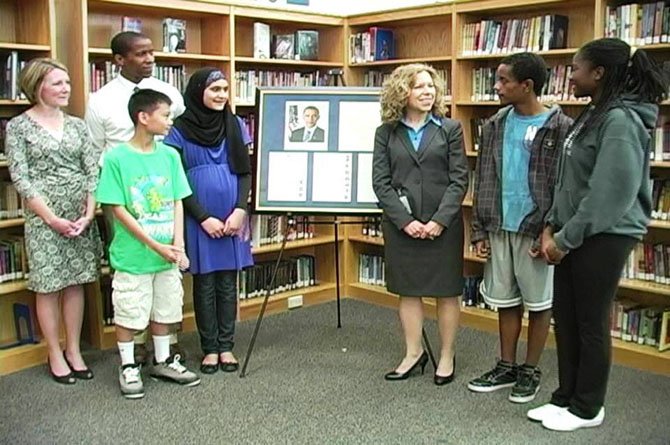 South County Secondary students in Janet Dower's middle school English for Speakers of Other Languages (ESOL) classes learned a big lesson about communication, when they wrote a letter to President Obama and received a response from him.
Part of the eighth grade curriculum involves writing a letter to an important person. When the class decided to focus on the environment and endangered species, they decided to take their issues all the way to the top and wrote the President. The great surprise was he responded.
The President made suggestions on "how you can do your part" and noted that "hearing from engaged young people like you gives me great hope for the future."
Dower was excited about the exchange of ideas. "President Obama's letter taught these students they have a voice in America's democracy."
The conversation isn't over yet. Motivated by the letter, the students wrote back to the President, declaring, "You have given us energy to learn more." They also extended an invitation to visit them in their new middle school next year. They are hoping they will get a positive reply.
On April 24, members of Dower's class presented their framed letter and Obama's response to Marsha Manning, principal of the new South County Middle School, and assistant principals Heather Bousman and Gordon Stokes. Michele Wong, 8th grade from Cameroon; Sana Iqbal, 8th grade from Pakistan; Michael Bedada, 7th grade from Ethiopia; and Phong Pham, 7th grade from Vietnam made the presentation. Manning replied that she was "thrilled" to accept the letters from the students and the president and stated they will hang in the main office of the new school.