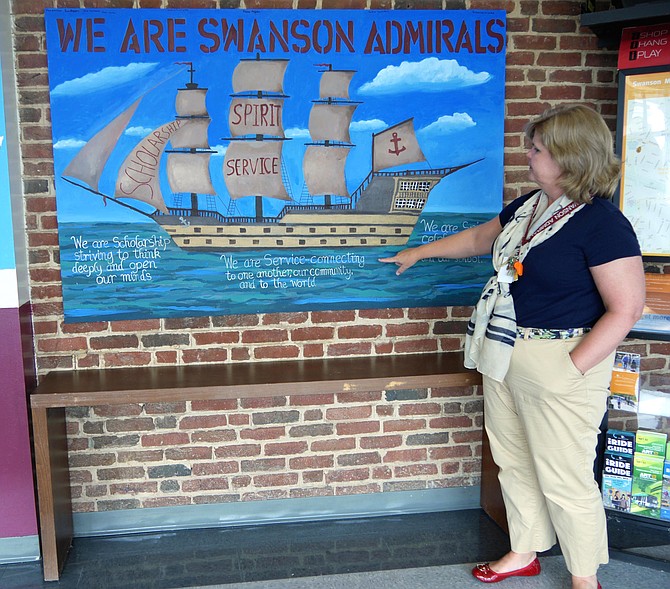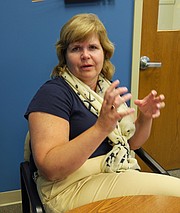 "Middle school kids are rising to new challenges — travel soccer teams, taking courses in middle school for high school credits, taking risks and challenging to stretch themselves," according to Bridget Loft, principal of Swanson Middle School at 5800 N. Washington Blvd. "But," she added, "There is a real rise in anxiety, too, with schools and parents struggling to find a balance. You have to keep the whole child in mind."
A sign inside the door of the main office says, "Bullying Has No Place in Our Schools."
Swanson Middle School, like the others in Arlington County, requires five core subjects in sixth grade with one elective, PE and lunch with four core subjects in 7th and 8th grades and two electives. One of the sixth grade choices is the elective wheel that she calls "the dim sum" where the students rotate through different choices every 4-5 weeks. Family and consumer sciences is part of the wheel, and this former "home ec" now includes cooking, sewing, design and budget. Business, drama and art are also choices. In eighth grade art last year they replicated Van Gogh where "each kid had a segment and then they brought them together to learn Van Gogh's technique." Tech ed is another part of the elective wheel. Loft says in 8th grade an assistant teacher's child had cerebral palsy, and the device he used to communicate didn't work very well. So the teacher brought this to the students in the tech ed class for ideas. They came up with a different design that worked better and the student test-drove it. "It was a real world application," she said.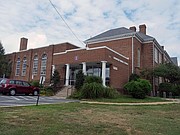 Loft says Swanson has very strong music, band and chorus and they compete well in the district festivals. "We are engaged in rigorous music performance opportunities." In addition, she says they offer a number of sports including track with around 200 students, 150 plus students in dive, plus wresting, basketball, swimming, and "the ballroom dance sports team is very popular." Languages include Spanish, French, which has picked up, five classes of Latin, and Chinese and Arabic, which share long distance learning with the other middle schools.
She says along her path to the current role of principal she was "really blessed." She taught history and government from 1992-2006 in Alexandria where she was tapped to take a leadership role, and it "sparked my interest." She moved to Arlington as an assistant principal at Swanson from 2006-11 and became an assistant principal at Wakefield in 2011-12. She came to Swanson as principal in 2012 where she says she "wanted to affect change on a larger scale working with adults, too, which can be harder than working with kids."
Loft says they do a lot of visioning, taking the SOL results and coming up with changes in instructional practices. Her teachers meet in collaborative teaching teams so they can look at all of the methods in the classroom and deliver needed interventions strategically.
With the new school year, she finds herself lucky to have all 90 teacher positions filled including 10 new teachers, a task that began the previous spring. A welcome letter had been sent out to staff with an agenda for the preservice week — what to do to comply with county requirements. The student schedules had been sent mid-August; another complicated task of assigning individual schedules that had begun the previous spring.
Loft said every 6th grader countywide has been given an iPad, which leads to personalized learning. A lot of teachers have blended traditional learning with the technology. "It has been a blessing but a challenge, too." The students range from 30 percent who are identified as gifted to those who are challenged. Eighty-six percent of the students are rated as proficient in math and reading.
"In middle school you don't know what to expect. Every day is different," Loft said, concluding, "it is harder to be in middle school today. We provide opportunities and just let them be themselves."