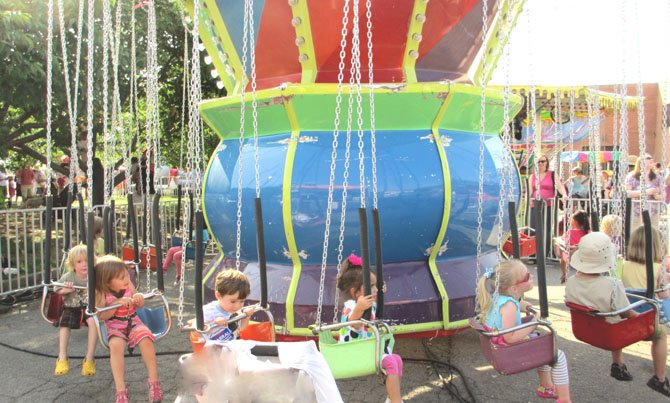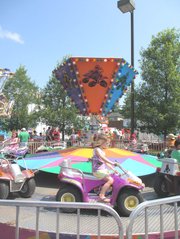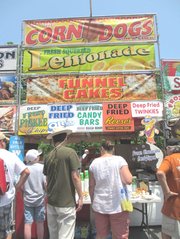 It takes a lot more than blistering, pounding heat to keep Vienna-area families and neighbors away from ViVa! Vienna!, the Vienna Rotary Club's three-day Memorial Day weekend festival.
Visitor demographics spread out from newborns to seniors, families and groups of teens. Live entertainment, to appeal to young and older, was offered on the Main Stage on the Town Green and at the Children's Stage behind Freeman House, in the shade. Shade, in fact, was in high demand, as people sought respite from the heat under the old shade trees behind Freeman House.
The bungee jump, the most expensive amusement ride at the festival, had no dearth of takers, although the dragon coaster and swing were pretty popular among the little ones. The lines for the rides moved fast.
The food court offered everything from traditional carnival food to ethnic cuisine, fruit drinks, and fried candy and pastry, keeping adults happy. Twenty amusement rides and kid-focused entertainment kept the youngsters happy. The successful weekend made the Rotary Club happy, too. Net proceeds from ViVa! Vienna! are donated back to community nonprofits.
Former Virginia governor Tim Kaine, with Del. Mark Keam (D-35), shook hands and spoke to festival visitors and vendors on Sunday. Kaine and Keam spent a while listening to the competitors of Vienna Idol, the fundraiser founded by Caffe Amouri owner Michael Amouri to benefit the Khristin Kyllo Memorial Fund.
The Vienna Idol competition, sponsored by Caffe Amouri, Whole Foods and The Business Bank, held court in the Caffe Amouri parking lot fronting Church Street on Sunday, May 27. Caffe Amouri split the semi-finals into two rounds, one at 11 a.m., the second at 2 p.m. During the break, the Vienna Dance Academy students wowed the crowd with their routines.
Vienna soprano Danielle Talamantes stopped foot traffic along Church Street with her pitch-perfect, ethereal rendition of the Star Spangled Banner to kick off the second round.
Some visitors remember coming to ViVa! Vienna! themselves as children; now grown-up, they are back with their own children. Others, such as Mike Linegang, started coming to the festival five years ago. His oldest child is four now.
"It's just a great community event," said Linegang, carrying son Aidan, 4, on his shoulders, and daughter Emily, 2, harnessed to his back. "It's a chance to shop, look around. The kids love the rides and games and the performances on the Town Green.
"We'll be back for Rocknoceros tomorrow."