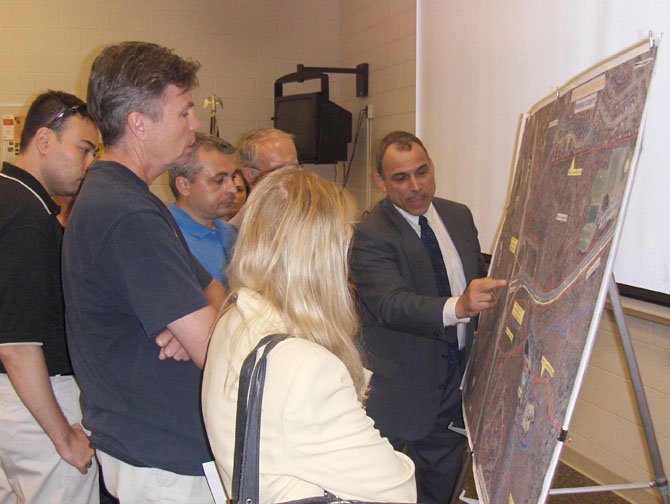 Centreville — The traffic-congestion problem at the I-66/Route 28 Interchange in the Centreville/Chantilly area isn't going to be solved anytime soon. But at least it's on VDOT's radar.
VDOT is currently planning two projects in that vicinity to alleviate rush-hour gridlock there and enhance safety. And it's beginning a study to develop a long-term solution — albeit one that won't be implemented until enough money materializes to fund it.
Tuesday night, May 29, Supervisor Michael R. Frey (R-Sully) hosted a public, informational meeting during which Bud Siegel — VDOT's Arlington/Fairfax preliminary engineering manager — explained what's on the road ahead.
"We're here to talk about what's becoming the biggest traffic headache in Western Fairfax County," said Frey. "It affects traffic that's going west in the afternoon and can't get onto I-66, and southbound all the way to the Prince William County line."
In 2006, VDOT made changes to Route 28 to increase traffic movement through Walney and Braddock roads. "But we're losing the benefits as traffic has increased," said Frey. "So we will fix the problem, and it will be a collaboration between Fairfax County and VDOT."
Besides Siegel, also at the meeting were VDOT District Administrator Garrett Moore and Project Manager Wayne Lightfoot. Said Siegel: "We're listening to the citizens to try to understand your concerns and minimize the impacts."
He said VDOT already has two projects underway that will help alleviate the I-66/Route 28 congestion in the short term:
Construction will start this summer on extending the right turn-lane ramp from I-66 west, about one-third of a mile, to use as a right turn onto Route 28 north.

Currently, in the morning rush-hour peak, drivers on southbound Route 28 heading to eastbound I-66 stack up at the traffic light there, backing up into the Route 28 through lanes. So in mid-2013, VDOT will extend the dual left-turn lanes on Route 28 south leading onto I-66 east an additional 600 feet.
Meanwhile, VDOT is working on ideas that will ultimately become a more-permanent fix for the interchange. And it's including surrounding areas in the study. "A consultant will identify interchange alternatives around I-66, Walney and Braddock roads, Route 28 and E.C. Lawrence Park," said Siegel. "He'll also see which alternatives are geometrically and physically possible."
The consultant will further determine how each one would perform under the forecasted traffic volume so it would still function well in 2040. He'll develop cost estimates to implement each alternative and will also identify any hurdles, such as physical or environmental constraints, property impacts and inconvenience to the community.
Also taken into consideration will be county Park Authority property right-of-way — specifically, impacts to E.C. Lawrence Park — as well as park access. There's a traffic signal there now where drivers enter the park from Route 28 north, so the consultant will look for an alternative access point.
"I know access to Route 28 from Braddock and Walney roads is important to the community," said Siegel. "So the [senior center in a former] church on property owned by the county at the southwest quadrant of the I-66/Route 28 interchange might go away."
He said VDOT will also ask the consultant, as well as its own team, how best to phase the changes. For example, said Siegel, there might be money for some short-term fixes along the way, even before the entire project is fully funded.
"Next, we'll do the preliminary study, share the results and identify possible funding sources," he said. "As we develop projected schedules, project costs and benefits to the public, it makes it easier to find the money."
The public is invited to send comments by June 29 to meeting_comments@VDOT.Virginia.gov and write "Route 28/I-66" in the subject line. A project Web site will be created and placed on a VDOT Study page accessible to the public; it will also be updated with new information.
Bill Keech Jr., president of the Westfields Business Owners Assn. said that interchange is crucial to area business and property owners. "This impacts the economic engine here, so it's important to find a solution quickly," he said. "We represent 35,000 employees, and people say they don't want to come here after 3 p.m. because the traffic is so bad. And companies that planned to relocate here are now telling us they don't want to."
A male resident said the problem is the Route 28 south traffic light at the I-66 intersection. "In the afternoon, you have to get off Route 28 at Willard [Road] because you ain't going anywhere."
Agreeing, Siegel said he hoped they could come up with something to deal with them and mitigate the problem. He said VDOT would like to complete the study in the fall, but when the work gets done, though, depends on the funding.
"There's no funding stream for this project, " said Moore. "But we're trying to get it ready to go for when there is."
Actually, said Frey, this issue first came up publicly in the late 1980s. "This problem has been punted for quite awhile," he said. "This study is kind of conceptual; for example, where should the turns go and is there room for them? We're trying to get money from the governor's transportation package for the preliminary studies. But it could cost $10 million just for engineering, design and location work. And environmental studies — because we're touching parkland — could take three years."
"So this could take several years and millions of dollars," continued Frey. "But we decided to start the process so we don't have to try to gear up when we do get the money. I've heard that we'd need roughly $75 million to $125 million, and we're not going to get that money overnight. But we want to get this moving because it'll be a long-term project."
Both state Sen. Dave Marsden (D-37) and Del. David Bulova (D-37) attended Tuesday night's meeting, and each weighed in on the matter. "It's the state's responsibility to fund its transportation system," said Marsden. "But 31 members signed a no-new-tax pledge; and in the southwestern part of the state, it's hard to get them on board for any coalition to get statewide transportation funding."
In the General Assembly, he said, "We're seeing money transferred to maintenance, because that's all the rest of the state cares about. But we [in Northern Virginia] need money for congestion relief. It's a bad way to go, and I don't know what we're going to do to ameliorate the long-term funding situation we've gotten ourselves into."
Part of the problem, said Bulova, is that "We distribute transportation money the way we did in the 1930s, '40s and '50s. Because of the CTB's [Commonwealth Transportation Board] membership, the urban areas are under-represented. We wouldn't run a business this way — we've got to make the investments if we're going to keep our quality of life."
Keech reiterated that "Fortune 500 companies are now saying they're not going to come to Fairfax County. Those [lost] jobs will never come back here, and we've got major problems if we don't find the funding [to fix the I-66/Route 28 Interchange]."
Bulova and Siegel said that's why it's important to move forward with the study and design of this project. "It's a very challenging area," said Siegel. "But we're trying to mitigate a very serious safety hazard and we believe this project can compete for safety funding."