Mount Vernon — Hurricane Sandy battered the region Monday night, Oct. 29, shutting down Fairfax County schools, governments, roads and voting precincts. The mammoth storm made landfall near Atlantic City around 8 p.m., according to the National Hurricane Center, with maximum sustained winds of about 80 miles per-hour.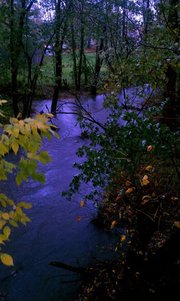 Driving rains and powerful winds knocked down trees and power lines, leaving at least 70,000 people in Fairfax County without power Monday night.
As of 11 a.m. Tuesday morning, Dominion Power reported that there are 57,000 customers without power county-wide. The Virginia Department of Transportation gave an update at 7 a.m. Tuesday morning, reporting that about 143 secondary roads in Fairfax, Loudoun and Prince William counties remained closed due to either high water, downed trees and/or power lines. The majority of these roads are in Fairfax County. VDOT also reported there were 107 signal outages in Northern Virginia, and to treat these outages as four-ways stops.
"Our crews are working throughout the day and night to assess storm damage, remove debris and work closely with emergency responders and utility companies to reopen roads closed due to downed trees and power lines," said VDOT spokesperson Joan Morris.
VDOT estimates that it will take several days to reopen all roads.
Many residents who were driving this morning said the roads are still slick and there are leaves and debris everywhere.
Fairfax County Chairman Sharon Bulova (D-at-large) held several news conferences on Sunday and Monday with County Executive Director Ed Long, giving status updates on the storm, county updates and safety information.
She cautioned motorists to turn back if they are driving and encounter a patch of road that is underwater.
Power Out? Call It in
The company reminds its customers to call toll free 1-866-DOM-HELP (1-866-366-4357) in the event of outages or downed lines. Customers may also report an outage through the company's mobile website at www.dom.com by typing in the phone number or account number on record with the company and the last four digits of their Social Security number, PIN or federal tax ID number.
If power is out:
Call Dominion's toll-free service number at 1-866-DOM-HELP (1-866-366-4357) or go to www.dom.com. The automated reporting system provides fastest access. Please have your account number or the phone number that is listed on your account ready so you can move through the automated system to report your outage or receive an update.
"It may look like you can drive through the water," she said, "but it's often deceptive how deep and fast-moving the water is. Don't chance it, just turn around."
Tuesday morning, county officials urged residents to stay off the roads to keep them clear for VDOT clean-up crews, utility restoration and public safety personnel.
"Many trees fell across roads last night and by this morning they were largely cleared thanks to their efforts and the planning and preparation that took place before the storm.
There are still areas without power. Please check with your neighbors to make sure they are alright and do not need help," said Supervisor Pat Herrity (R-Springfield.)
Countywide it is reported that 55 trees fell into homes.
"I saw many trees leaning into other trees, structures and wires this morning. Please keep yourself and kids clear of these trees until they have been assessed and dealt with," he said.
According to VDOT, all interstates in northern Virginia are clear. VDOT officials reminded drivers that HOV restrictions have been lifted today on interstates 66, 95, 395, and the Dulles Toll Road.
VDOT reminds drivers:
Treat intersections where traffic signals are out as four-way stops.
Since many fallen trees contain power lines, drivers and residents are strongly advised to avoid contact with them.
Do not attempt to drive through high water.
Slow down on wet roads to avoid hydroplaning.
Ensure vehicles have adequate fuel to complete trips during power outages.