Potomac — Award-winning pianist Brian Ganz will perform Prokofiev's Piano Concerto No. 3 on Nov. 10 at 8 p.m. at the Music Center at Strathmore with the National Philharmonic, led by Associate Conductor Victoria Gau. The program will also include Prokofiev's Lieutenant Kijé Suite and Alexander Nevsky Suite. The concert will feature mezzo-soprano Magdalena Wór and the National Philharmonic's nearly 200 voice all-volunteer Chorale.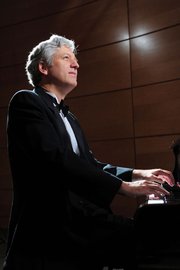 The evening starts off with the lighthearted Lieutenant Kijé Suite, a score composed for the 1934 film Lieutenant Kijé. The suite's Russian dance motif has been used in many popular songs and movies. Next on the program is Ganz performing Prokofiev's Piano Concerto No. 3 in C Major, the composer's best-known concerto, which is rich with lyrical passages and propulsive tempi. The evening ends with Prokofiev's Alexander Nevsky Suite, a score for the 1938 historical drama Alexander Nevsky, a collaboration with Sergei Eisenstein, one of the greatest Russian film directors.
A laureate of the Marguerite Long Jacques Thibaud and the Queen Elisabeth of Belgium International Piano Competitions, Ganz has appeared as soloist with such orchestras as the St. Louis Symphony, the St. Petersburg Philharmonic, the National Philharmonic, the Baltimore Symphony, the National Symphony and the City of London Sinfonia, and has performed with such conductors as Leonard Slatkin, Piotr Gajewski, Marin Alsop and Mstislav Rostropovich. Ganz is Artist-in-Residence at St. Mary's College of Maryland and is on the piano faculty of the Peabody Conservatory of Music. He lives in Annapolis.
Ganz is preparing for a Jan. 19, 2013 all-Chopin recital in partnership with the National Philharmonic at The Music Center at Strathmore. He performed his second sold out recital in his "Extreme Chopin" quest to perform all of Frédéric Chopin's works in February at Strathmore. Ganz will perform all the approximately 250 works of Chopin over the next decade. For the third concert in his Chopin Project, Ganz will explore the theme of "Small Worlds." He will navigate what is for many listeners Chopin's magnum opus, the 24 Préludes, Op. 28. Other miniatures on the program will include the 5 Mazurkas, Op. 7 and the rarely heard Trois Ecossaises, three short Scottish dances.
Mezzo-soprano Magdalena Wór is the first place winner of the Heinz Rehfuss Vocal Competition (2005), a Metropolitan Opera Competition National Finalist (2002), a Winner of the Mozart Society of Atlanta Competition, an alumna of the San Francisco Opera's Merola Summer Opera Program and Chautauqua Music Institution's Marlena Malas Voice Program and St. Louis Opera Theatre's Gerdine Young Artist Program. Ms. Wór was a member of the Domingo-Cafritz Young Artist Program at the Washington National Opera from 2006-2008. She has recently appeared with The Metropolita Opera, National Symphony Orchestra, Atlanta Symphony and New Trinity Baroque. A polish native, Wór has lived in the United States since 1991. She received her Bachelor's and Master's degrees in vocal performance from Georgia State University.
Led by dynamic Music Director and Conductor Piotr Gajewski, the National Philharmonic boasts a long-standing tradition of reasonably priced tickets and free admission to all young people age 7-17, assuring its place as an accessible and enriching component in Montgomery County and the greater Washington, D.C. area.
As the Music Center at Strathmore's ensemble-in-residence, the National Philharmonic showcases world-renowned guest artists in time-honored symphonic masterpieces conducted by Maestro Gajewski and monumental choral masterworks under National Philharmonic Chorale Artistic Director Stan Engebretson.
The National Philharmonic also offers education programs, such as the Summer Strings and Choral Institutes. Students accepted into the Summer String Institutes study privately with National Philharmonic musicians, participate in coached chamber music and play in an orchestra conducted by Maestro Gajewski and Philharmonic Associate Conductor Victoria Gau. Visit www.nationalphilharmonic.org.
A free lecture will be offered at 6:45 pm on Nov. 10 in the Concert Hall at the Music Center at Strathmore. To purchase tickets to the all Prokofiev concert on Nov. 10, 2012 at 8 p.m. at Strathmore, visit nationalphilharmonic.org or call the Strathmore ticket office at 301-581-5100. Tickets are $28 - $81; admission for children 7-17 is free through the ALL KIDS, ALL FREE, ALL THE TIME program. ALL KIDS tickets must be purchased in person or by phone. Parking is free.
The Music Center at Strathmore is located at 5301Tuckerman Lane, North Bethesda. Visit www.strathmore or call 301-493-9283.