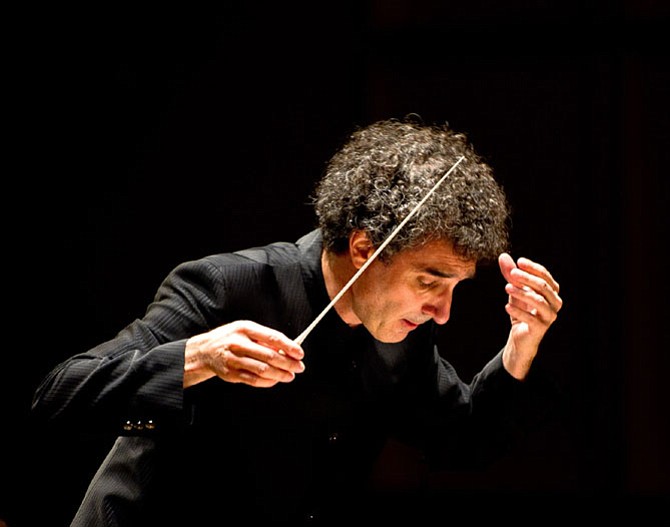 The Alexandria Symphony Orchestra continues its 74th season, featuring the four final candidates for music director. The finalists are diverse, conducting symphonies from Xalapa, Mexico to Lucena, Spain — from the Los Angeles Philharmonic to the Washington National Opera. One final candidate will be chosen as the next music director to conduct the 75th anniversary season in 2018-2019.
The third candidate, José-Luis Novo, will conduct on Saturday, Feb. 10, 8 p.m. at Schlesinger Concert Hall, and Sunday, Feb. 11, 3 p.m. at the George Washington Masonic Memorial, with a program focused on themes of nationalism. On the program are Debussy's "Petite Suite" and Lutosławski's "Mała Suita." Debussy's "little suite" is originally written for two pianos, based on poetry by revered French poet Paul Verlaine; Lutosławski's "little suite" was written for Polish National Radio, celebrating folk song traditions. The concert opens with the Overture to Verdi's opera "Nabucco," lamenting the captivity of the Hebrew slaves.
José-Luis Novo currently serves as music director and conductor of the Annapolis Symphony Orchestra. He has held positions with the Binghamton Philharmonic, Cincinnati Symphony Orchestra and Cincinnati Pops Orchestra. As guest conductor, he has led the Baltimore Symphony, Fresno Philharmonic, Minnesota Orchestra, Cincinnati Chamber Orchestra and Cleveland Philharmonic.
The performance closes with Sibelius' epic Symphony No. 2 in D Major. "Music can commemorate significant events in history," comments Maestro Novo. "Dec. 6, 2017 marked the centennial anniversary of Finland's independence from Russia, a particularly appropriate case in point. The first time I heard this piece, I fell in love with it. It still gives me goosebumps when I hear it. The audience will feel this intensity just as the Finns connected with it during this pivotal time in their history."
Concert attendees, musicians and community members are invited to provide feedback after each performance in order to assess the four final candidates. The ASO plans to announce the new music director following the final concert of the season, and special events are planned to introduce him to Alexandria and the surrounding community.
The Alexandria Symphony is a fully-professional orchestra drawing from the Washington, D.C. metropolitan region's wealth of musical talent. Many musicians perform with other orchestras and top military bands. The ASO performs Saturdays at Rachel M. Schlesinger Concert Hall and Arts Center and Sunday matinees at the George Washington Masonic Memorial. Adult tickets are $20-$80, with $5 youth, $10 student and military, senior and group discounts available. To order tickets and for more information, visit www.alexsym.org or call 703-548-0885.