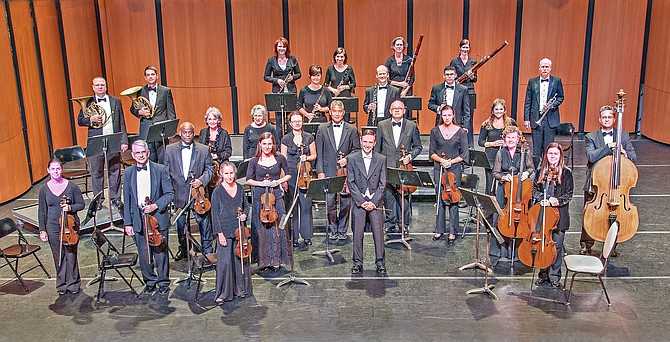 Where and When
Virginia Chamber Orchestra presents "Music of the Masters" featuring soloist Brian Ganz at Ernst Community Cultural Center, Northern Virginia Community College, 8333 Little River Turnpike, Annandale. Performance: Sunday, Oct. 28, 2018 at 4 p.m. Tickets: $30 (discount tickets online), $35 at the door. Students (fourth grade through college) are free. Note: Free parking. Complimentary reception after performance to meet the soloist.
The all-professional, Fairfax County-based Virginia Chamber Orchestra (VCO) opens its 47th season, with "Music of the Masters." The evening showcases the distinguished pianist Brian Ganz as the featured soloist. The award-winning Ganz is regarded as a leading pianists of his generation. He has performed at The Kennedy Center for the Performing Arts.
Led by music director David Grandis, the VCO performs not only at the Ernst Community Cultural Center at Northern Virginia Community College, but is an "Ensemble in Residence" at George Mason University. The VCO also regularly performs creative ensemble presentations at Tysons' intimate 1st Stage theatre.
"We are excited and looking forward to having a pianist of the stature of Brian Ganz perform as our guest soloist at our 'home' concert hall in the center of Fairfax County," said Doug Lovejoy, Virginia Chamber Orchestra Board President.
The VCO program will include Mozart: Piano Concerto in D minor, K. 466 which is full of dark storms, sunny romance and a jubilant finish. The Mozart concerto has also been played used as a pop accompaniment. A movement from the concerto was played in the Oscar winning film "Amadeus," while another movement was heard in "Mr. Robot," a recent television series.
The upcoming VCO program will also include a performance of Beethoven: Symphony No. 4 in B-flat major, Op. 60; a less often heard symphony. In an interview, Ganz described the Mozart concerto as "a very beautiful work for many reasons, but one reason is that one can hear both Mozart and Beethoven within the same work! I look forward immensely to collaborating with the VCO and David Grandis on this masterpiece…my very favorite symphony!"
VCO music director, David Grandis, noted that the Beethoven: Symphony No. 4 "is a special universe of its own, one which resonates intimately with me.
"It is the only symphony which was commissioned. No draft survived, but we know Beethoven composed it in a few weeks," added Grandis. "The fact that this symphony is probably the least loved and the least known of Beethoven's output, makes it even more lovable to me…But it is just as perfect as any other of Beethoven's symphonies. It has always seemed strange to me that it is less performed than the others. It might very well be my favorite Beethoven symphony."