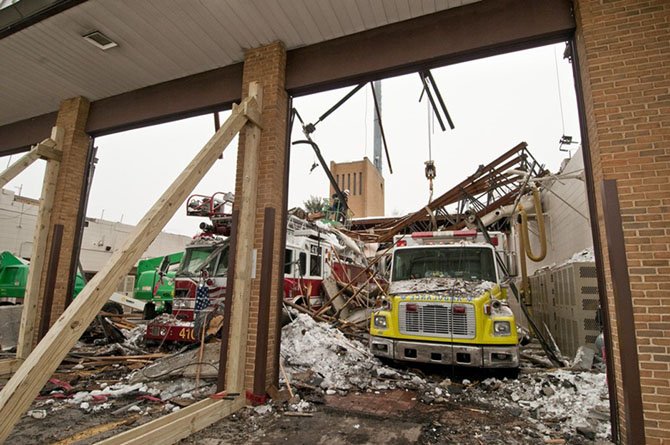 On Tuesday, Fairfax County voters overwhelmingly approved $155 million in bonds to upgrade and renovate libraries, parks, fire stations and courtrooms, and to make storm water improvements to address flooding in the Huntington neighborhood.
With 99 percent of Fairfax County precincts reporting at 9 a.m. on Wednesday, Nov. 7, each of the four bonds passed by at least 70 percent of the vote.
*Libraries ($25 million): Funds will be used to renovate three libraries (John Marshall, Pohick and Tysons-Pimmit Regional) and either renovate or relocate the Reston Regional Library. Currently, the 30,000-square-foot library is located north of the Reston Town Center and near the planned Reston Parkway Metro station. Because that area may be redeveloped into a more urban, mixed-use center, the library may be relocated. The $10 million project includes site studies, design and construction of a new library. The library bond passed with 288,519 "yes" votes (70.6 percent), and 123,300 "no" votes (29.94 percent) with a total of 412,787 votes cast.
*Public Safety ($55 million): The public safety bond will raise a total of $55 million, including $35 million to replace three fire stations—Baileys Crossroads, Jefferson and Herndon—and $20 million to renovate 22 courtrooms in the Jennings Judicial Center. The public safety bond passed with 307, 217 "yes" votes (74.56 percent), and 104,824 "no" votes (25.44 percent), with a total 412,041 votes cast.
*Parks and Park Facilities ($75 million): The bulk of the funding, $63 million, will go to the Fairfax County Park Authority for improvements to existing facilities and for purchase of land. The remainder will support the Northern Virginia Regional Park Authority. The Fairfax County Park Authority administers 23,194 acres of parkland and 420 individual parks. These include parks that provide countywide services, such as camping, golf, ice skating and swimming as well as RECenters. For community parks, the passage of the bonds mean a wide array of park and recreational facilities, including the first phase of improvements at Monticello Park, Hartland Road Park and White Gardens and continued phased development at Laurel Hill Park and Patriot Park. Countywide improvements in park signage and funding of the Mastenbrook matching grant program are also included.
Nearly $20 million of the money will include an expansion to Spring Hill RECenter, featuring new fitness space, renovations to the locker rooms, the addition of multipurpose activity rooms and a new gym area. Oak Marr RECenter will be expanded, featuring new fitness spaces and improved facility flow. Additional features at the Water Mine at Lake Fairfax will be added to enhance the visitor experience and increase capacity. The park bond passed with 297,757 "yes" votes (72.13 percent of the vote) and 115,030 "no" votes, or 27.87 percent of the vote.
*Storm water Drainage Improvement Bonds ($30 million): Funding is earmarked for a levee and other storm-water improvements in the Huntington community. In June 2006, 160 homes were flooded and 161 homes were damaged in 2011 during Tropical Storm Lee. Currently, there are 180 homes in the FEMA-designated floodplain that are at risk.
At Fairfax County's request, the U.S. Army Corps of Engineers studied the best ways to protect Huntington from future floods. The study examined a number of options, including dredging Cameron Run, buying the flood-prone properties and flood-proofing individual homes.
The study found that building a levee and a pumping station is the most cost-effective way to reduce flooding in the neighborhood. Bond funds are planned to pay to complete the design and build a 2,865-foot-long levee and pumping station, along with buying any land needed for this purpose.
The storm water bonds passed with 316,296 "yes" votes (76.76 percent) and 95,769 "no" votes (23,24 %) for a total of 412,065 votes cast.
"The projects the bond referenda will pay for are community priorities that essentially enhance our quality of life," said Fairfax County Board of Supervisors Chairman Sharon Bulova (D-at-large). She said Fairfax County's triple-A credit rating—one of only 39 counties in the country to earn the rating—allows the County to borrow money at a low cost to pay for public facilities and infrastructure.
She said the County has a fiscally conservative policy of rapid debt retirement and strong debt management. Since 1978, the County has saved more than $543.28 million on bond and refunding sales as a result of the triple-A ratings. Bulova said none of the bonds are expected to raise tax rates for residents.
"The County has benefited from the low cost of construction to make these kinds of improvement to our parks, libraries and public safety facilities. It's the silver lining, so to speak, in the economic downturn," she said.
Because the bonds spell out the type and cost of projects, Bulova said money cannot be shifted around for other projects. "When you vote, you will know exactly where your money is going," Bulova said.
In Fairfax County, bonds typically have a high rate of passage and, for the most part, have bipartisan support from the Board of Supervisors.
"All residents benefit from parks, libraries, and, of course, the courthouse renovations. Efficient handling of court cases come from better facilities. Park and library funds are spent in an order established based on needs. Over time that covers the whole County," said Supervisor John Cook (R-Braddock).