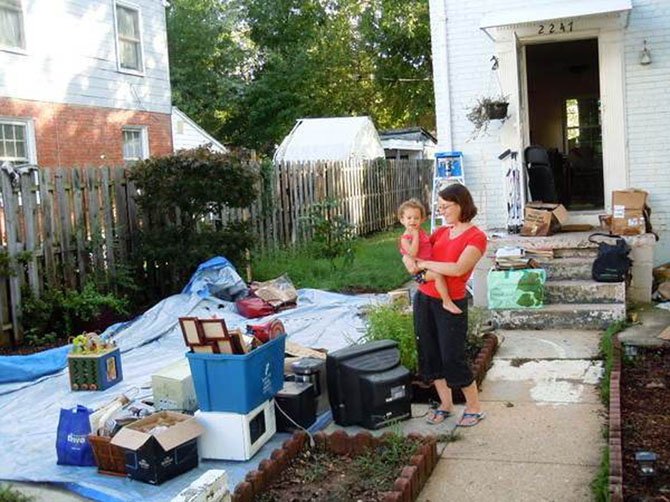 On a recent Saturday afternoon, Monique Bell of Oakton was helping her 5-year-old daughter McKenzie sort through a dozen Halloween craft books at the Reston Regional Library.
The library, one of the busiest branches in Fairfax County, has a collection of more than 215,000 volumes and circulates more than a million books a year.
For children, there is a separate wing with everything from board books for infants to chapter books for school-age readers; special events such as Spiderella's Spooktacular Tales, and a full-service children's information desk.
"We're new to the area," Bell said, "but this has already become one of our favorite places. It's where a lot of moms spend time. We love all the story-time events."
Built in 1985, the 30,000-square-foot library is located north of the Reston Town Center and near the planned Reston Parkway Metro station. Because that area may be redeveloped into a more urban, mixed-use center, the library may be relocated.
The $10 million project, which includes site studies, design and construction of a new library, is just part of Fairfax County's $155 million bond package on the ballot Nov. 6. Specifically, the ballot will include four bond referendums for parks, public safety facilities, and storm water projects.
"I didn't know about the project, but I can't imagine not supporting library projects," Bell said. "They're important for our children, like good schools, and one of the reasons we moved here."
IF MOST VOTERS think like Bell, their approval of the bond package would allow the County to borrow $25 million to redesign the Reston library, as well as renovate three other libraries: Pohick Regional, Tysons-Pimmit Regional and John Marshall Community libraries.
The public safety bond would raise $55 million, including $35 million to replace three fire stations—Baileys Crossroads, Jefferson and Herndon—and $20 million to renovate 22 courtrooms in the Jennings Judicial Center.
The $75 million park bond for local and regional parks, according to County officials, would generate $63 million toward a 10-year, $435 million capital improvement plan and $12 million to renew a four-year plan to contribute capital funds to the Northern Virginia Regional Park Authority. Another $30 million is earmarked for a levee and other storm-water improvements in the Huntington community.
"The projects the bond referenda will pay for are community priorities that essentially enhance our quality of life," said Fairfax County Board of Supervisors Chairman Sharon Bulova (D-at-large). She said Fairfax County's triple-A credit rating—one of only 39 counties in the country to earn the rating—allows the County to borrow money at a low cost to pay for public facilities and infrastructure. She said the County has a fiscally-conservative policy of rapid debt retirement and strong debt management. Since 1978, the County has saved more than $543.28 million on bond and refunding sales as a result of the triple-A ratings. Bulova said none of the bonds are expected to raise tax rates for residents.
"The County has benefited from the low cost of construction to make these kinds of improvement to our parks, libraries and public safety facilities. It's the silver lining, so to speak, in the economic downturn," she said.
Because the bonds spell out the type and cost of projects, Bulova said money cannot be shifted around for other projects. "When you vote, you will know exactly where your money is going," Bulova said.
In Fairfax County, bonds typically have a high rate of passage and, for the most part, have bipartisan support from the Board of Supervisors.
"All residents benefit from parks, libraries, and, of course, the courthouse renovations. Efficient handling of court cases come from better facilities. Park and library funds are spent in an order established based on needs. Over time that covers the whole County," said Supervisor John Cook (R-Braddock).
However, a partisan divide separated supervisors on the $30 million storm water bond referendum, which would provide flood-prevention measures such as a new levee for residents in Mount Vernon's flood-prone Huntington community.
In April, Huntington residents appeared before the board, asking the County to support measures that would protect their community from continued flooding along Cameron Run. On Sept. 8, 2011, during Tropical Storm Lee, Cameron Run peaked at 15 feet and flooded homes, causing the evacuation of more than 200 residents.
"We have 1,341 signatures from people who support our request. By our count, 1,193 of them are Fairfax County residents," said Huntington Community Association (HCA) secretary David Coon, who spoke about the community's "Stop the Floods" campaign at the April 12 board meeting.
During the May 22 board meeting, Supervisor Gerry Hyland (D-Mount Vernon) urged the board to include a $30 million bond referendum for flood-prevention measures in Huntington, arguing that the County should fulfill a 40-year-old promise to protect the neighborhood. Homes in the Huntington community were built in the 1940s and 1950s, before rules against developments in a floodplain existed. Hyland argued that residents wanted to protect their existing homes rather than support redevelopment options. Currently, there are 180 homes in the FEMA-designated floodplain that are at risk.
THE BOARD'S THREE Republican supervisors—John C. Cook (Braddock), Michael R. Frey (Sully) and Patrick S. Herrity (Springfield)—opposed the extra bond referendum for flooding.
"I voted against the storm water bond because it only helps about 200 households in Huntington," Cook said. "It will significantly increase the value of those homes, which is good for them, but at others' expense." Cook said supervisors should have explored the option of a private developer who had expressed an interest in buying the homes and building an apartment building, which would meet current FEMA floodplain regulations.