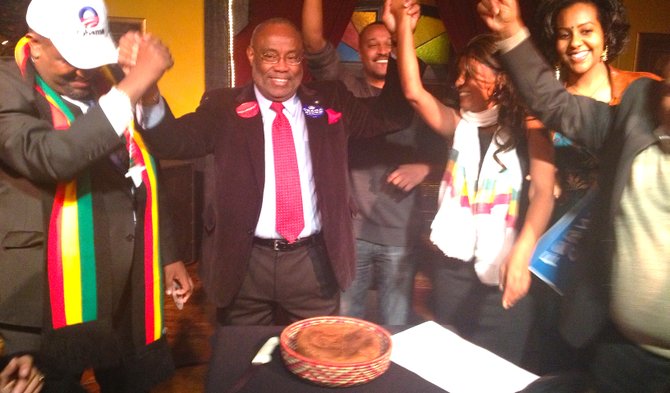 Election Results
Bill Euille: 39,145 votes
Andrew Macdonald: 26,038 votes
Alexandria Mayor Bill Euille hasn't been in a competitive election since 2003, when he was first elected mayor against Republican Bill Cleveland and independent Townsend Van Fleet. And perhaps his lopsided victory Tuesday night shows why — Euille is clearly popular with voters in Alexandria, especially the record number of Democrats who turned out this week to support the reelecton of incumbent Democratic President Barack Obama.
"I respect Andrew Macdonald. We have been friends for many years, and we grew up together," said Euille. "And I'm glad that Andrew decided to step forward to challenge me because it afforded me an opportunity to be able to get my message out to demonstrate to the voters what my vision is for the city and my success."
Over the course of the last year, Macdonald has become a leading force of opposition in the city, marshalling people to work against the waterfront plan. Euille, on the other hand, has been one of the chief advocates of the waterfront plan. That division was represented in the vote totals Tuesday night, as Macdonald won the two Old Town precincts that are at issue in the waterfront plan. Euille won every other precinct in the city.
"Well, I think we showed there are an awful lot of people in Alexandria that are really concerned about the direction that the city is taking," Macdonald said at Ireland's Own Restaurant and Pub Tuesday night. "And that's something the next city government is going to have to take into account."
Euille pledged to be mayor for all Alexandrians, even those who opposed him in this election.
"I will make certain that everyone will be inclusive as part of our decision-making process moving forward," Euille said at the Democrats victory part on the West End. "And I will make certain that Andrew, someone that I have a lot of respect for, will be part of that process."