ASO maestro composes score for Nov. 10 film festival.
An original score composed by Alexandria Symphony Orchestra maestro Kim Allen Kluge and his wife Kathryn Vassar Kluge will debut Nov. 10 as The National Gallery of Art presents a ciné-concert of films by Alice Guy Blaché.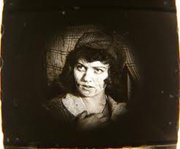 Inspired by Guy's images, the Kluges have complemented the aesthetic of the films by developing a unique approach to their musical score. Films on the program include: Alice Guy tourne une phonoscène (1905), early Gaumont films from the Sieurin Collection (1899-1900), Five O'Clock Tea (1905), Greater Love Hath No Man (1911), Mixed Pets (1911), Falling Leaves (1912), The Ocean Waif (1916), and Parson Sue (1912). The total running time is approximately 100 minutes and will be followed by a discussion.
The program, with Kim Allen Kluge conducting the live performance, will be presented at 2 p.m. in the National Gallery of Art East Building Auditorium at 4th Street and Pennsylvania Avenue, NW and is free of charge. Seating is first come, first served.
The Music of Inspiration: Yefim Bronfman joins the ASO for Beethoven Piano Concerto No. 1 "Emperor"
Pianist Yefim Bronfman will perform with the Alexandria Symphony Orchestra on Beethoven's Piano Concerto No. 5 in E Flat Major ("Emperor") to continue the celebration of Music Director Kim Allen Kluge's 25th year.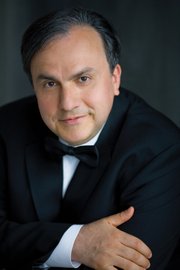 A 1997 GRAMMY® Award Winner and 2009 GRAMMY® Award Nominee, Bronfman was born in Tashkent in the Soviet Union in April 1958 and immigrated to Israel with his family in 1973, where he studied with pianist Arie Vardi, head of the Rubin Academy of Music at Tel Aviv University. In the United States, he studied at The Juilliard School, Marlboro and the Curtis Institute, and with Rudolf Firkusny, Leon Fleisher and Rudolf Serkin. Bronfman became an American citizen in July 1989.
Music Director Kim Allen Kluge said Yefim Bronfman immediately came to mind when programming Beethoven's Emperor Piano Concerto as he, like Beethoven, is a force of nature. Bronfman not only inspires with the music of past composers but also makes a powerful connection between living performers and living composers through his commissioning of new music for piano and orchestra. Bronfman's playing and passions perfectly embody the season's theme — "Be the Music".
In addition to Beethoven, Music Director Kim Allen Kluge and the Alexandria Symphony Orchestra will also perform Hovhaness's Symphony No. 2 ("Mysterious Mountain"), Mussorgsky/Ravel's Pictures at an Exhibition and selections from Newman's score to Little Women (1994).
The 2012-2013 Season is the 25th Anniversary for Kluge. The ASO plans to make this a season-long celebration in honoring his commitment to the Orchestra and arts in Northern Virginia. His many accomplishments with the ASO include a successful partnership with the violinist Midori when the ASO was a recipient of her Orchestra Residencies Program in March of 2012.
Additionally, he has led the orchestra in an unprecedented number of world premieres composed by leading artists in the industry, as well as his own critically-acclaimed compositions. He can also be credited with establishing the Children's Arts Festival in 2001 as well as initiating family-friendly Sunday matinee concerts. This season he will continue his efforts to promote music education in Alexandria schools, working closely with local music students in conducting youth ensembles, giving master classes, and mentoring students in performance and music composition.
Details
Saturday, Nov. 10, 8 p.m.
Sunday, Nov. 11, 3 p.m.
Rachel M. Schlesinger Concert Hall & Arts Center, 3001 N. Beauregard St., Alexandria.
Tickets start at $40 adult, $35 senior, $15 students and $5 for all youth (18 & under). Purchase online at alexsym.org or call 703-548-0885.
Come for a free pre-concert chat one hour prior to each performance and enjoy free parking.
The Alexandria Symphony Orchestra also welcomes WETA Classical Host Marilyn Cooley as host of this season's Pre-concert Chats. Following her undergraduate degree in music, Cooley earned her Master of Music degree at Northwestern University, where she performed as chorister and soloist with the University Collegium Musicum, and specialized in music of the Renaissance and early Baroque. After serving as music announcer at WGUC in Cincinnati, and later as announcer and music director at Baltimore station WBJC, Cooley came to WETA in 1985 as the late night music announcer. She is now heard each weekday on Classical WETA 90.9 FM. ASO Pre-concert Chats begin one hour prior to each performance.
Following the November concerts, this season of celebration for the ASO continues with Mozart's Violin Concerto No. 4 in D major by the ASO's own concertmaster, Claudia Chudacoff and the world premiere of Kluge and Kluge's River Poem, dedicated to the City of Alexandria, Feb. 9-10, 2013; Elizabeth Pitcairn, owner of the famous Red Violin on Prokofiev's Violin Concerto No. 1 in D Major, April 20-21, 2013; and an all-ASO program on May 18, 2013 featuring Stravinsky's Rite of Spring and Rimsky-Korsakov's Scheherazade.