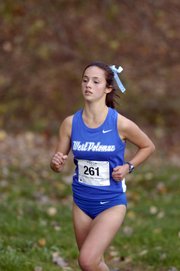 Fairfax Station — Despite a fall near the end of the race and battling what could be hypoglycemia, West Potomac junior Katie Genuario qualified for states with a 14th-place finish at the Northern Region cross country championships on Nov. 2 at Burke Lake Park.
Genuario fell during the race, got back to her feet and recorded a time of 18:15. She fell after she crossed the finish line and, after the meet, a teammate accepted Genuario's all-region award on her behalf. Genuario said she wasn't feeling well due to hypoglycemia, a condition involving low blood sugar, but was OK after about 20 minutes.
"I fell [near the end of the race]," Genuario said, " and I knew I had to finish it, so I finished."
The top four teams and top 15 individuals qualify for states, scheduled for Saturday, Nov. 10 at Great Meadow. Genuario finished 14th, four seconds ahead of Westfield's Sara Freix, who grabbed the final all-region spot. Lake Braddock's Sophie Chase won her third consecutive region title with a time of 16:42.
"[Genuario] did a great job," West Potomac head coach Jenn Dietz said. "This was a very fast and loaded field, so she did a great job. … When she went down, she picked herself back up quickly and held on."
The West Potomac girls' team finished seventh with a score of 171. Lake Braddock won the event with a score of 38, followed by Oakton (92), Chantilly (109) and West Springfield (116).
The boys' team finished seventh with a score of 188. Chantilly won the title with a score of 39, followed by Oakton (85), Robinson (87) and Lake Braddock (124).
"The boys' [team] … wanted to qualify [for states], but they really, really came together and we had a nice pack," Dietz said. "Some other teams just showed up a little more than we did."
Chantilly's Sean McGorty won the individual title with a time of 14:19.