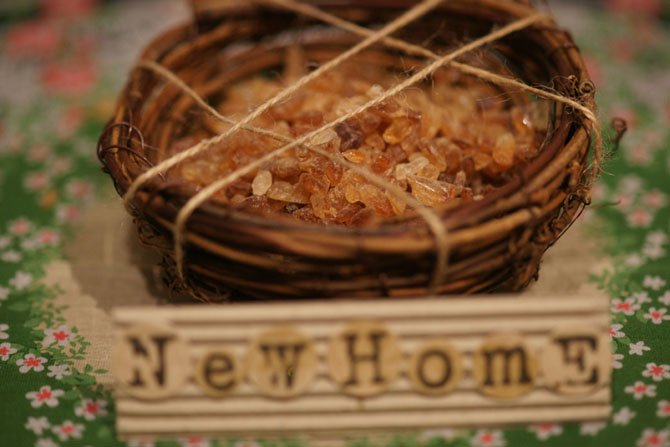 Arlington — From olive oils and spices to cookware and ice molds, local culinary experts share their favorite foodie-friendly gift ideas.
Specialty salts are popular this year, said culinary instructors Christine Wisnewski, of Vienna, and Andie Nelson, of Arlington. "Fleur de Sel, it literally translates to 'flower of salt.' This stuff is a far cry from your standard table salt," said Nelson. "The salt crystals are large yet delicate, and provide a burst of flavor when used as a topping for homemade breads, or even roasted vegetables."
"There's also Maldon sea salt" said Wisnewski. "There are all kinds of salts with all different kinds of mineral contents. There are salts for cooking with, salts for finishing with. A sampling of gourmet salts is a great idea and they are not that expensive."
Salt, however, isn't the only popular seasoning this season. From vanilla and almond extracts that give a flavor boost to sweet fare like cakes to waffles, to Punjabi-style garam masala and bouquet garni in a jar, which adds authenticity to ethnic foods, every food enthusiast needs an arsenal of spices when it is time to fire up the stove, oven or grill. "I would recommend a boxed spice set from Penzeys in Arlington," said Wisnewski. "They sell spices, everything from A to Z. It is spice heaven as far as I'm concerned."
SMALL BATCH OLIVE OILS are another of Wisnewski's recommendations. "There are all different kinds of producers producing all different kinds of olive oils," she said. "The range is amazing. They range from spicy to floral to fruity and come in a host of flavors. There are finishing oils that you would use for salads and oils for cooking."
For the foodie who has everything, let them eat sugar. Nelson recommends handcrafted, gourmet sugars and teas from Chambre de Sucre. "My personal favorite is the amber sugar," she said.
In fact, Lisa Kunizaki, owner of Chambre de Sucre, says these sugars are served to the Japanese royal family. "I like to think of this as the affordable luxury. The person who has it all is not going to have this," she said. "Whenever you have guests stop by at the last minute, you can bring out these sugars and put them in a beautiful bowl. It is a conversation piece."
Nelson also suggests "dried fruits, vegetables and meats of every kind, which can be found at the Vietnamese shop Phu Quy Deli Delight in Falls Church. "It's a real treat to check out," she said.
"We have more than 100 dried items," said owner Kim Nguyen. "There is dried abalone, natural dried mangoes and even dried okra."
"Instruction is one of the things that are really popular among people who are foodies." — Christine Wisnewski
JEFF ELMENDORF, MANAGER of The Hour Shop in Old Town Alexandria, recommends cutting boards made from reclaimed vintage wood and Tovolo Sphere Ice Cube molds. Ice cubes made in these molds melt more slowly than traditionally shaped ice. "These molds were made with whiskey drinkers in mind," he said. "Because the ice is round, it melts slower. If you're drinking a 25-year-old Scotch, most people don't want water in it."
Elmendorf also recommends Glencairn whiskey glasses from Scotland for savoring that Scotch. "They are fashioned after a traditional nosing glass, but the opening has been changed so that it can be used as a true whiskey or bourbon glass," he said.
ENJOY COOKING OUTDOORS? Nelson recommends the Big Green Egg, a ceramic outdoor cooker that is used for grilling, roasting, smoking or baking. "[It] has become a near religion for several of my foodie friends," she explained. "If Santa comes early, you can even cook a Thanksgiving turkey on this thing."
Wisnewski says ceramic-coated, nonstick pans are a must-have for food lovers: "They don't have the harmful chemicals that other non-stick pans might have. Just go with a reputable manufacturer. I would not want people to buy the ones they see advertised on TV."
For those looking for cookbook recommendations, Wisnewski recommends two vegetarian tomes. "My current favorite cookbooks are by Yotam Ottolenghi," she said. She suggests the just-released "Jerusalem: A Cookbook" or "Plenty: Vibrant Recipes from London's Ottolenghi."
GIFT CERTIFICATES for cooking classes will also be a hit among foodies, say local culinary experts. "An in-home private cooking lesson for the kids might be a great gift for everyone when your tweens begin cooking dinner once a week," said Nelson
"Instruction is one of the things that is really popular among people who are foodies," added Wisnewski. "Participation classes, which are for people who want to get their hands dirty, cover all different ethnic foods and techniques. Demonstration classes are for people who would like to sit and watch a beautiful dinner roll out to them, like wine and food pairing classes where people get to come, interact with others and watch the chefs cook."