Whether you're shopping for a seasoned cook or a budding culinary enthusiast, buying presents for a foodie can be a daunting task. What's the best pan? The coolest gadget? The latest trend in desserts? Local gourmets come to the rescue with culinary goodies to entice even the most discerning of food aficionados.
Nancy Pollard, owner of La Cuisine in Old Town Alexandria, suggests the Thermapen cooking thermometer. "This is clearly the best probe thermometer on the market," said Pollard. "It has gotten a lot of kudos from chefs and test kitchens."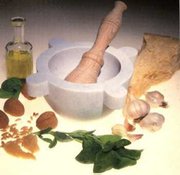 Also on Pollard's list are mortars and pestles made from Carrara marble. "We buy these in Carrara, Italy, said Pollard. "They are made of pure white Carrara marble so it is so much easier to see what you are doing. The one that that is particularly useful is 22 centimeters because it is big enough to make mayonnaise, pesto and other sauces."
Chopping vegetables can even be made more interesting with a custom-made cutting board, says Lenora Lawson chef faculty at The International Culinary School at The Art Institute of Washington in Arlington. "You can get a cutting board in the shape of your home shape or even a cutting board that has Van Gogh's art on it."
When it comes to kitchen tools, "I'd suggest a nonstick baking mat … a lovely wooden French rolling pin, a beautiful olive wood cheese board — with a cheese for sampling, of course — or a fun, colorful, Swiss-made Kuhn paring knife," said Nichole Ferrigno, a certified holistic health coach and chef at L'Academie de Cuisine in Bethesda. "It comes in lots of bright colors and with a safety sheath, making it a great addition to a picnic basket."
Culinary instructor Andie Nelson of Creative Kids Kitchen, LLC in Arlington, says her top recommendation is a Vitamix blender. "[This is] the blender that seems to have become a religion among foodies," she said. "This big-ticket item would definitely make any foodie or health-conscious person very, very happy. It even makes soup."
ANOTHER GIFT SUGGESTION on Nelson's list is aimed at helping save a few trees while adding an elegant touch to the kitchen. "I think that having great linens in the kitchen is highly under-rated," she said. "Many cooks buy lots and lots of paper towels, but I can tell you that having a great set of dish towels — French dish towels are the best — can be a worthwhile and beautiful investment for the kitchen."
Help keep clothing stains at bay with an apron by Marcy Butler Designs. "This is a local designer," said Pollard. "The aprons are made from Italian linen, but they were made in the United States."
If your foodie prefers cookbooks, sweet treats abound in "Fat Witch Brownies: Brownies, Blondies, and Bars" from New York's Legendary Fat Witch Bakery by Patricia Helding. "This book has great recipes for brownies," said Pollard. "We usually suggest that people give this book along with a set of Italian seven-inch disposable square pans. Her recipes will make two perfect square pans of brownies and you can put one in the freezer."
For young cooks, Pollard suggests "Best Lunch Box Ever: Ideas and Recipes for School Lunches Kids Will Love" by Katie Sullivan Morford. "This is a great book for teenagers or anyone over the age of 7," said Pollard. "It encourages them to make their own lunches for school."
Pollard also suggests "The Washington Post Cookbook," curated and edited by Bonnie Benwick, the deputy food editor of the Washington Post. Pollard herself created three of the recipes, including two for Thanksgiving. She says one of her favorite recipes is the Man Catcher Brownies, which she created.
Another interesting read, says Pollard, is "The Billionaire's Vinegar: The Mystery of the World's Most Expensive Bottle of Wine" by Benjamin Wallace. The book tells a true story of a 1787 Château Lafite Bordeaux — supposedly owned by Thomas Jefferson — that sold for $156,000 at auction.
Ferrigno suggests going a step beyond cookbooks and sending your foodie back to school. "There is such an array of options available," she said. "One could sign up for a knife skills class, a topic specific class like 'puff pastry,' or something more fun and experience oriented, like a couples cooking class, or 'girls' night out.' This is such a fun gift."
CONSUMABLE GIFTS are also on Ferrigno's list: "A bottle of good Champagne or Scotch, beautiful pink or grey sea salts, a spice collection … or a box of homemade baked goodies" are always hits, she said.
For beer lovers, Lawson suggests a beer brewing kit. "It is something different," she said. "Rather than buying beer, they can make their own and appreciate the beer-making process."