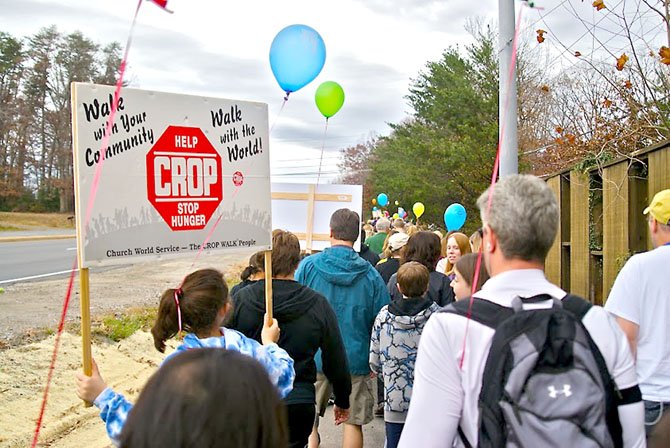 When disasters such as Hurricane Sandy occur, the natural human response is to reach out to help others in need, typically through monetary donations. For 20 years, residents in Burke and surrounding communities have walked in the annual Burke Area CROP Hunger Walk to raise funds for both hunger and disaster relief, to help people whose names they would never know, even as they helped feed people who might be hungry in their own neighborhood.
Starting in 1993, this annual community event now celebrates raising over one quarter million dollars and making a real difference in the lives of global and local neighbors who are victims of poverty, disaster, or war.
What are you doing Sunday, Nov. 18? Would you like to visit with friends, make new friends, enjoy the outdoors, get a little exercise, and help change the world? Join with friends and neighbors in your community to walk a few miles in the 20th annual Burke Area CROP Hunger Walk to help people in need in your community, in the U.S., and around the world.
Organized locally, an estimated 400 people will participate in the 6K (3.6-mile) walk with the goal of raising $30,000, surpassing last year's total of over $24,000. The event begins at 2 p.m. Sunday, Nov. 18, at Living Savior Lutheran Church, 5500 Ox Road, in Fairfax Station.
The coordinator of this year's walk, I have been involved for most of its existence and walked for 16 years. Concerned people walk each year because they know they can change the life of at least one person. And the more people who walk or sponsor walkers, the bigger the difference we make. About $15 million is expected to be raised this year from CROP Hunger Walks in communities across the country.
CROP Hunger Walk is the oldest nationally-based walk for hunger in the U.S. It began in 1969 as an outgrowth of Church World Service (CWS), which was founded by 17 denominations working together in 1946 to fight hunger following World War II. CROP (Christian Rural Overseas Program), began in 1947 as rural grain canvasses to send seed, grain and livestock to war-torn Europe and Asia, but was gradually replaced by the very successful CROP Hunger Walks for fundraising.
Funds raised by CROP Hunger Walkers nationwide reach millions of neighbors around the world who have to walk to live—as well as millions served by local food pantries, food banks, and meal sites here in the U.S.
Twenty-five percent of the money raised in the Burke Walk stays in the Burke, Springfield, Fairfax, Fairfax Station and Clifton area to support the important anti-hunger and emergency assistance provided by Ecumenical Community Helping Others (ECHO) and Western Fairfax Christian Ministries (WFCM).
All walkers must register. There is no registration fee, however, walkers are encouraged to set a personal fundraising goal and to sponsor themselves. CROP Hunger Walk participants typically raise money by collecting pledges from sponsors. Registration/sponsor envelopes can be obtained from participating groups, or by contacting Janet Smith (703-455-9025 or BurkeVA.CROP@cox.net). Registration begins at 1:30 p.m. at Living Savior Lutheran Church, Fairfax Station. The walk ends at Fairfax Presbyterian Church, Fairfax. Shuttle buses will be available.
For more walk details, visit www.burkecropwalk.org.
Participating groups include the following Burke congregations: Abiding Presence Lutheran Church; Accotink Unitarian Universalist Church; Burke Presbyterian Church; and St. Stephen's United Methodist Church. The participating Springfield groups are Congregation Adat Reyim; Community Covenant Church; Grace Presbyterian Church; Westwood Baptist Church; Sydenstricker United Methodist Church; and Ecumenical Community Helping Others (ECHO). Participating groups from Fairfax Station include Living Savior Lutheran Church; St. Peter's in the Woods Episcopal Church; and Temple B'nai Shalom. Also walking are the following groups from Fairfax: Fairfax Presbyterian Church; Lord of Life Lutheran Church; and One God Ministry; and from Clifton, Clifton Presbyterian Church.