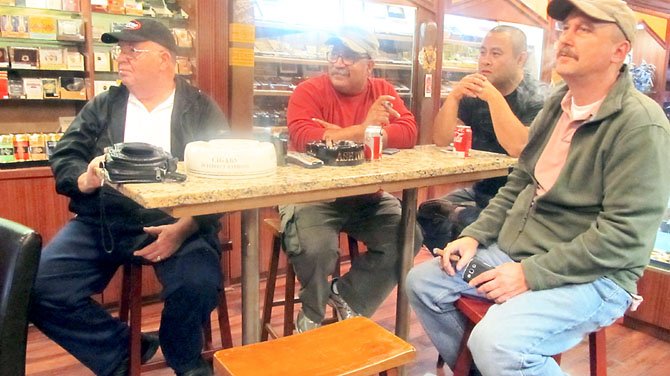 Tucked away in an unassuming Burke suburban shopping center is a place cigar smokers can call home.
On a recent Monday evening, the Burke Cigar Shop is packed with customers and regulars who come to relax, puff away on their cigars and enjoy the camaraderie of friends.
"We like to call it adult day care," joked Rafael Gutierrez, who, like many of the men in the shop, is retired military.
Instead of merely being a place in which to purchase a cigar, the Burke Cigar Shop is a place for them to be consumed as well.
With four leather club chairs, humidor lockers, a flat-screen that's playing The Last of the Mohicans, the Daniel Day Lewis film before he became Lincoln, the shop is part lounge, part store and part sanctuary. Inside this haven, smokers are free to enjoy their cigars in peace.
As smokers know too well, cigar-friendly restaurants and bars are pretty much a thing of the past. But most states that have banned smoking still allow smoking inside cigar shops. And savvy cigar store owners, like Shami Walia, have created a comfortable lounge inside where everyone is welcome, except the smoking police.
"I started smoking cigars as a casual hobby," said Walia, who emigrated from India in 1982 when he was 18 years old, and has owned the shop for five years. "The previous owner was a good friend of mine. I like to think we have a very nice social atmosphere. There's a lot of camaraderie among our customers."
Walia said about 90 percent of his customers are men, about 75 percent military or retired military, and women do come in to smoke.
But cigar smoking, he emphasized, is not designed for or marketed to teens. "Honestly, the price of a cigar, anywhere from $5 to $30, is just too expensive for them. We don't have that issue here."
What Walia does have is a group of regulars who like to smoke cigars and talk politics, sports and religion.
"This is a very unique place. You want customers to relax and enjoy themselves," Walia said.
On Monday evening, a group of regulars—Tim Jeter, Rafael Gutierrez, Min Wonpak and Pete Streff—sit at one of the granite-topped tables, waving smoldering cigars in their hands.
"You can hear all different points of view, and walk away learning something. We have heated discussions, but everyone is pretty respectful," WonPak said.
"We like to joke around . . . this is not a place for the thin-skinned," said Tim Jeter, a retired Fairfax County firefighter.
"This is place where everybody knows your name, or nickname, where we solve the world's problem," Jeter said, adding that politicians should stop by the cigar shop. "If they just came here, we could tell them how to fix the economy. This is a place full of problem-solvers."
Thick-skinned problem-solvers who, whether they admit it or not, clearly have a soft side.
One of the first things they tell a visitor is the story of Hurricane Sandy and the tree. When Hurricane Sandy uprooted a 70-foot tree that fell on one of their homes a few weeks ago, 13 men, armed with chainsaws, were there the next day to cut it down.
"Everybody showed up with a chainsaw," said Pete Streff, a former military officer. "We cut it down, and the tree didn't damage his house."
The men pass around photos of the tree-cutting adventure. Min Wonpak shows a photo of Jeter with the dismembered tree.
"Look at this picture. See how clean his gloves are? What does that tell you," Wonpak says, smiling. "Yeah, he didn't do any work."
Jeter rolls his eyes.
"You have to have a sense of humor here," Streff said, "and a love of cigars."