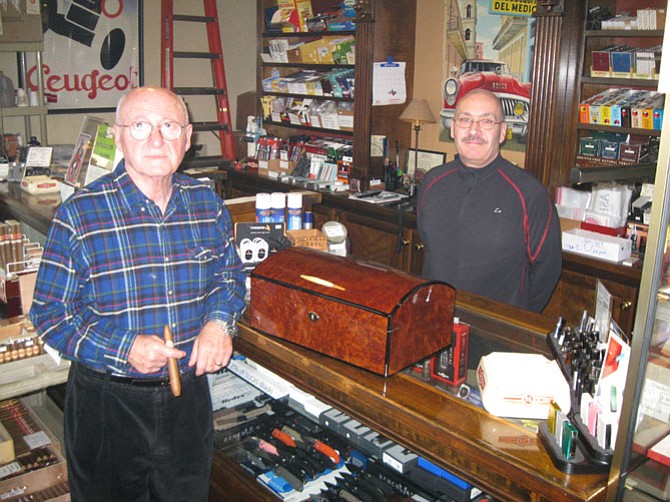 For holiday gift-giving for the man who has already everything, McLean Cigars PG Boutique, located at 1429 Center Street in McLean, offers top-of-the-line cigars, fine pens, lighters and leather goods. Owned by Paul B.K. Garmirian, Ph.D., 72, and his son, Kevork, 39, both of McLean, the store carries under 50 brands of quality cigars, including their own high-end PG products of cigars.
Since the holidays are fast-approaching, Paul Garmirian is recommending a few gift ideas: "When people come in, if it's a casual gift we recommend a four-pack of cigars for around $40-$50, and an ashtray," he said.
"If it's a semi-formal gift, depending on the budget, we go for a box of 10 cigars and maybe a lighter up to $100."
For a more formal gift, to say, a visiting dignitary, he recommends a top-of-the-line box of 25 cigars that goes for $300 to $600; and a 22-karat gold lighter that ranges from $1,500 to $3,000. In addition, he recommends French-manufactured pipes for $139, and humidors that range from $50 to $3,000.
THE STORE also sells high-end executive briefcases and men's bags from DuPont, for $1,650 to $2,100; cigar cutters from England for $20; PG ashtrays from Belgium for $100; and PG lighters from France, $550 to $3,000 (his own models are $1,500 to $1,750). They also carry imported high-end torch lighters in the $200 range; and DuPont pens from France in the $300 to $600 range.
A retired professor of international politics and international marketing, father Paul formerly worked in real estate and has lived in McLean for 35 years. In 1990, he published the book, "The Gourmet Guide to Cigars," which is now in its 11th printing.
Son Kevork graduated from McLean High School and studied marketing at JMU before coming back to work with his dad importing cigars, as well as distributing his book and accessories. "I realized it would be nice to move our office from our warehouse by Dulles Airport into an existing tobacco shop," he said.
Paul calls the store that he opened in 2004 an educational center that caters to smokers who are both amateurs and seasoned. "We do everything we can to educate, to inform, and to share information with those who enjoy cigars," he said. "But the purpose is never to encourage anyone to smoke. The whole concept is to deal with established smokers and educate new smokers."
With over 1,500 brands of cigars in the U.S., and offering under 50 brands at his store, Paul said his idea was not to carry something that is available in every tobacco shop "because the choices that we make is a projection of what we are, and not so much what sells at other stores."
"I think a lot of cigar smokers intrinsically trust our word and our recommendations, which sets us apart from other stores," said Kevork. "We put our stamp of approval on our products."
Paul added: "We have products that fit every pocketbook within the context of quality of that particular product."
THEY SPECIALIZE in their own brand of PG Cigars from the Dominican Republic. Other popular brands they carry, after the PG, is Imperio Cubano, Padron, and Fuente. They also purchase cigars from Nicaragua and Honduras, which sell for $5 to $30 per cigar. Some of the high-end cigars are vintage that have been aging since 1991.
Paul, who has 55 years of experience with cigars, said that aging improves the flavor and texture of some tobaccos. "If the tobaccos get along fine, they are going to produce a harmonious result," he said. "If they clash due to a bad blending, it's going to reflect that in the cigar.... Like grapes and wine, they are going to intermarry and the result can be sensational."
Their store manager, Emile Nassar, has 22-plus years of experience and is more of a cigar advisor. "Many times when a customer comes in, Emile knows what they smoke," said Paul. "If somebody says they want a medium cigar, we've classified the cigars from 1 to 10, with 10 as very strong, and 5 as medium; there is also a 2, which is extremely mild."
"So, in addition to the strength level, we try to match the flavor profile to what people are looking for flavor-wise." That could mean nutty, floral, smooth, strong or rough.
Incidentally, Paul added that there are a total of 200 stores in the U.S. that carry their PG Cigars brand of products.
McLean Cigars PG Boutique is located at 1429 Center Street in McLean. Call 703-848-8095 or visit the website at www.mcleancigars.com.