On Nov. 12, Vienna Police Chief Robert Carlisle notified the town manager of his intent to retire, effective Jan. 1, 2013.
Carlisle was hired as chief of the Vienna Police Department in February 2001 and has almost 35 years experience in law enforcement. He joined the Fairfax County Police Department in 1978 and held several positions throughout his tenure, retiring in 1999 as commander of the Criminal Investigations Bureau. Prior to his appointment with the Town of Vienna, Carlisle served as assistant chief with the Falls Church Police Department from 1999 to 2001.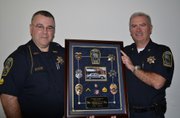 "Chief Carlisle has given many years of dedicated service to the Town of Vienna and in that time has transformed the way the police department does business. He has been an integral part of the Town's leadership team and has provided invaluable guidance not only in the field of public safety, but also in Town budgeting practices, emergency management efforts and in the selection of key department head positions. He will most assuredly be difficult to replace," said Town Manager Mercury Payton.
In his letter to the town manager Carlisle stated, "It has been an honor and privilege to serve in this position and something that I remain thankful for every day. This job and the police department have become a labor of love for me. I came here to a department that was under difficult circumstances and the initial challenges were many, but from challenges we created opportunities and we have made the most of every one of them. In almost every way, this department bears little resemblance to that which I took over; a credit to every employee who works here."
Upon retirement from the Town of Vienna, Carlisle will serve as vice president of security for Navy Federal Credit Union. In his new position, he will oversee worldwide security for the largest credit union in the world.