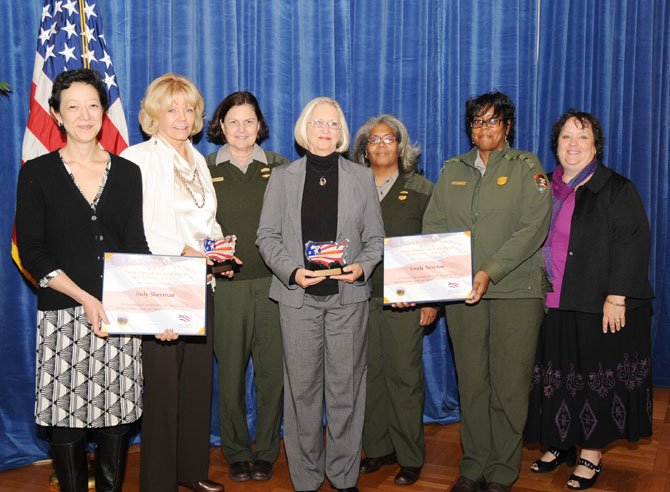 Arlington — Sandy Newton, a member of The Woman's Club of Arlington, received a U.S. Department of the Interior "Take Pride in America" volunteer award at a special luncheon held last month.
Newton, along with her colleague, Judy Sherman, were recognized for restoring the historic Kitchen garden at Arlington House, Robert E. Lee's home, located at Arlington National Cemetery. This project entailed researching old documents to create the garden and then implementation of their plan. They tilled the ground, built planting beds, germinated seeds, planted, weeded and cultivated the ground. Now, in place of a rocky field, there is a kitchen garden with rows of corn, tomatoes, lettuce, potatoes, and beets. This award had 100 nominees nationwide and the Arlington House garden was one of the 10 selected to be honored. Newton has volunteered 1,000 hours at Arlington House since she started one year ago.
Newton also volunteers at Mount Vernon, George Washington's Home, and demonstrates chocolate making, spinning and weaving to its visitors.
She is also a member of the "Tidewater Treadlers." This group competes in the Maryland Sheep and Wool Festival each May. The group consists of a shearer, three spinners, and Newton, the weaver. They shear a sheep, spin the wool and weave a shawl in three hours. Their goal is to spread the word about the rare breed sheep at Mount Vernon. She also spent five years at Hillwood Museum in Washington, D.C. cataloging and conserving its lace collections.
Newton is active in her church — Saint Charles Borromeo Catholic Church in Clarendon (The Circle of Caring) — and has volunteered for Meals on Wheels in Arlington. At The Woman's Club of Arlington, she holds the office of first vice president for 2012-2014, and serves on its Contributions, Programs and Reservations Committees.
She is a wife, mother of two grown children and has six grandchildren.