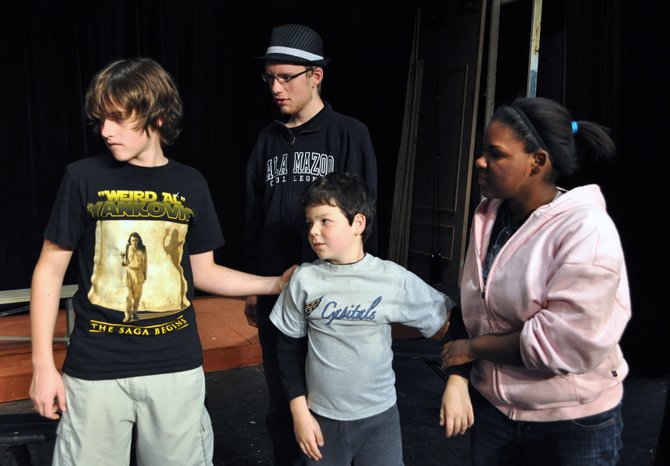 When and Where
Providence Players of Fairfax perform "The Best Christmas Pageant Ever" at the James Lee Community Center Theater, 2855 Annandale Road, Falls Church. Performances are on Dec. 7-16, 2012, Thursday, Friday and Saturday evenings at 8 p.m., and Saturday and Sunday matinees at 2 p.m. Tickets: $15-$18. Call 703-425-6782 or visit www.providenceplaye….
A delightfully boisterous, but controlled chaos lit up a recent rehearsal of the Providence Players' next production, the family-friendly holiday treat "The Best Christmas Pageant Ever." Over a dozen joyously energetic middle school and high school students were rehearsing their roles under the watchful eye of Director Beth Whitehead (Mantua).
Written by Barbara Robinson, "The Best Christmas Pageant Ever" has been a magazine article, a book and a play. It is a comic, heartwarming tale focused on children considered some of the most incorrigible in town. Then they are cast in the local church'annual Christmas pageant.
Fully expecting the worse, the entire town shows-up, just waiting to see an expected car-crash. Will the Christmas pageant be ruined? Or will some kinder, gentler virtues somehow surface?
Whitehead noted that there was an open call to cast the 30-actor production. It includes about 20 children; over 50 children auditioned for the roles.
Blake Phillips, a freshman at Woodson High School greatly likes the theater. "I can express myself in a theater production. I get to show feelings and emotions as an actor." He wanted to be in "The Best Christmas Pageant Ever" since "it is a unique show, family-centered, kids-centered show. It can teach good lessons. And the audience can watch children transform as they hear the Christmas Story for the first time. They truly begin to change before the audience's eyes."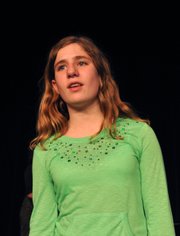 Hazel Thurston has a very key role, she narrates the evening's entertainment.
She is from Kenmore Middle School in nearby Arlington. Thurston loves theater and being in this production. "There are lots of funny lines. . . . And there are good lessons to be learned. Don't judge people by what you first see on their outside; there may be great kindness and niceness hidden away longing to get out."
One of the early members of the Providence Players, now celebrating its fifteenth year, is Dave Schwartz performing as a reverend lending a hand to help the children understand the Christmas Story. "It is a fun show with so much energy. Really, the whole family will enjoy it."
This holiday family fare production of the Providence Players will benefit the generous, charitable work of the Young Hearts, a group of Fairfax County teens who raise funds to battle blood cancers and other diseases. As a co-production of the Young Hearts, Prince McLaughlin is taking on the responsibilities of production co-producer.