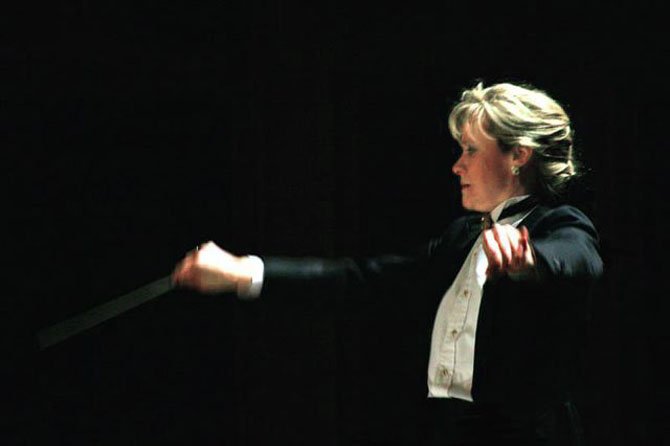 The McLean Orchestra has announced its 41st season, "A Season of Imagination," introducing newly appointed Music Director and Conductor Miriam Burns of New York City. The McLean Orchestra's gala opening concert, "Phantoms and Fantasies," will be performed on Oct. 20, at the Oakcrest School in McLean at 8 p.m. Executive Director John Huling says, "We are tremendously excited about Maestra Burns taking the reins of the McLean Orchestra and can't wait to get this season started on Oct. 20. Miriam is going to electrify our audiences as she did when she conducted us in 'A Night at the Opera' this past February."
The opening subscription concert will include Mussorgsky's Night on Bald Mountain, Debussy's Afternoon of a Faun and Hector Berlioz's most famous work, Symphonie Fantastique. Holiday programs on Dec. 8 and 9, entitled "Holiday Magic," will once again feature the Oakcrest School Girls' Chorus and introduce soprano soloist Melissa Mino. The concerts will offer a variety of traditional and spiritual favorites including an audience sing-along. On our Feb. 2 concert, "Musical Fairy Tales," Grammy-nominated violinist Jenny Oaks Baker, previously of the National Symphony Orchestra, will perform works from her nominated album, "Wish upon a Star: A Tribute to the Music of Walt Disney." On this concert of musical fairy tales, the orchestra will also perform Rossini's Overture to William Tell, Grieg's Peer Gynt and the music from Fantasia 2000, Stravinsky's Firebird Suite, 1919. This concert will be repeated in an abbreviated format on Sunday, Feb. 3, which will combine the McLean Orchestra and McLean Youth Orchestra in their first ever "side-by-side" concert. The March 16 concert, titled "Gypsy," opens with Ligeti's Concert Romanesc before showcasing National Symphony Orchestra Concertmaster Nurit Bar-Josef and NSO cellist James Lee who will perform Brahms' Double Concerto for Violin and Cello. After intermission, the orchestra will perform Beethoven's Symphony 7, a work that Beethoven himself felt was one of his finest. "Route 66 to Paris" will close the subscription season on May 4. This concert will be a mix of enchanting American and French music including Ravel's La Valse and Pavane for a Dead Princess, Samuel Barber's Knoxville Summer of 1915 and Bernstein's Glitter and be Gay featuring NYC Soprano Courtenay Budd. The concert and season conclude with Gershwin's beloved An American in Paris complete with honking taxi cabs. All concerts are followed with a cake and champagne reception for conductor, musicians, soloists and audience alike.
The McLean Youth Orchestra will continue its mission of offering high quality classical musical training and performance opportunities to many of Northern Virginia's most talented youth. The MYO under Music Director Pauline (Tina) Anderson introduces its own new Principal Conductor Dr. Paul Kim who is also a professional violinist. The MYO will perform four concerts this season and will travel to Chiba, Japan in March to perform with its sister orchestra from Chiba. This continues a long tradition of international exchange for the MYO. All McLean Youth Orchestra concerts are free to the public.
For concert and ticket information visit the McLean Orchestra website at www.mclean-orchestra.org or call 703-893-8646.