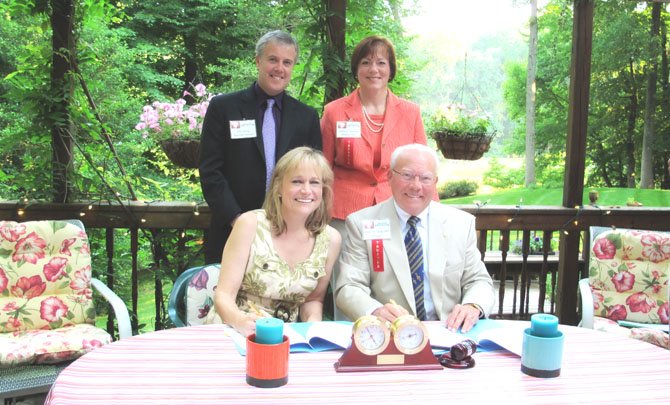 The McLean Orchestra has announced the appointment of a new Music Director, Miriam Burns, who will officially pick up the baton for the McLean Orchestra on July 1. After an extensive and broad two-year search, Maestra Burns, currently of New York City, was the unanimous choice of the Artistic Advisory Committee (AAC) of the McLean Orchestra, comprising musicians, board, management, and audience representatives. After meeting multiple times over the last six months, the AAC recommended to the Board of Trustees that they hire Burns to be the next Music Director. The Board of Trustees voted unanimously to approve a contract with Burns. On June 10, Burns and Orchestra President Wayne Winston Sharp, Ph. D. signed her contract at a "Rose Garden Ceremony" as part of the orchestra's Annual Board Meeting. "After two years of performing under a variety of fine guest conductors, I know I speak for all the musicians of the McLean Orchestra when I say we are thrilled to move ahead with a highly-talented, world-class Music Director and Conductor who will provide continuity, long-term vision, creative new outreach initiatives and artistic excellence for years to come. The positive response to Miriam from musicians, audience members, board members and staff has been overwhelming. Her electrifying concert with the McLean Orchestra, 'A Night at the Opera,' in February 2012 was a season highlight for us all. This is a great day for the McLean Orchestra organization," said Executive Director John Huling.
According to President Sharp, "Given her extensive experience of eight years as a Cover Conductor for the New York Philharmonic, and wide acclaim as a Music Director in three other states, I am confident that Maestra Miriam Burns will take the professional McLean Orchestra, and the McLean Youth Orchestra, to new heights." Incoming President Aileen Pisciotta also commented that "Maestra Burns brings a powerfully inspiring presence to the Orchestra and will expand the horizons of the Orchestra in ways not previously imagined. I am delighted to have her on board for our 2012/13 season, 'A Season of Imagination.'"
"I thoroughly enjoyed working with the McLean Orchestra and was impressed with the level of music making, potential and desire to improve. I felt an easy rapport with the musicians as well as the administration and Board members, knowing we would make a great team, working together to mold the McLean Orchestra into a world-class ensemble, expanding its visibility and prestige throughout Northern Virginia, Metropolitan D.C. and beyond," said Burns. "My specialty is to galvanize and empower orchestras to perform at the peak of their abilities, and I always develop quite a following with local audiences. As musical ambassador and face of the organization, I look forward to meeting everyone and, as much as possible, becoming a part of society in McLean. My passion is to make symphonic music relevant and exciting for new as well as existing audiences."
To enable Burns to maintain her New York City residency and keep abreast of potential outstanding musical guest soloists, President Sharp noted that the Staybridge Suites McLean will be her exclusive "official host" during each concert week and provide her with transportation--a real "home away from home", and a gathering place for her to interact with the Friends of the McLean Orchestra. The McLean Orchestra would like to thank Staybridge Suites for this generous donation.
Burns and Huling are currently finalizing the offerings for the McLean Orchestra's 41st season, "A Season of Imagination" which will be announced in the next few weeks.