Police Search for Office Creeper
Someone posing as a maintenance man has been stealing purses and wallets from doctors' offices throughout the McLean and Falls Church areas.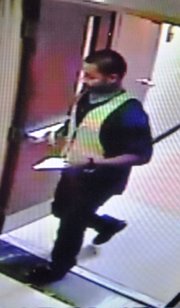 Cancer patients, rehabilitation patients and office employees have been victimized by the thief who's struck at least seven times since late June.
The most recent report was Sept. 20 in the 8000 block of Arlington Boulevard. The victim had placed his belongings into a cubby while he received physical therapy. When he returned, his wallet was gone.
A man was reportedly seen walking around, looking at vents and acting as though he was on a maintenance call and police believe this person may be linked to the other cases in the area.
The suspect is described as in his late 20s. He wore blue work pants, a blue shirt and a neon green traffic vest. Police believe the suspect has been using the stolen credit cards at gas stations in the D.C. area.
Four larcenies have occurred in the 8000 block of Arlington Boulevard and three were in the 8000 block of Leesburg Pike.
Anyone with information is asked to contact Detective Manes at 703-246-7800 or call Crime Solvers by phone at 1-866-411-TIPS/8477, e-mail at www.fairfaxcrimesolvers.org or text "TIP187" plus your message to CRIMES/274637 or call Fairfax County Police at 703-691-2131.
Foust to Host Meeting on Express Lanes
With the Express Lanes set to open in the next few months, Supervisor John Foust (D-Dranesville), along with VDOT and Transurban/Fluor (builders and operators of the Express Lanes), will host a community information meeting to discuss the new service and answer citizens' questions. At the briefing, residents will also have the opportunity to purchase either an EZ Pass, the new Flex transponder, or to exchange their current EZ Pass for the Flex Pass. While current EZ passes will work in the new Express Lanes, carpool drivers utilizing the Flex transponder can change a setting to indicate they are HOV-3, enabling them to drive for free.
The meeting will be held on Wednesday, Oct. 10, at 7 p.m. at the McLean Community Center, 1234 Ingleside Avenue in McLean.
For additional information contact Cheryl Patten at Supervisor Foust's office at 703-356-0551 or email Cheryl.Patten@fairfaxcounty.gov.