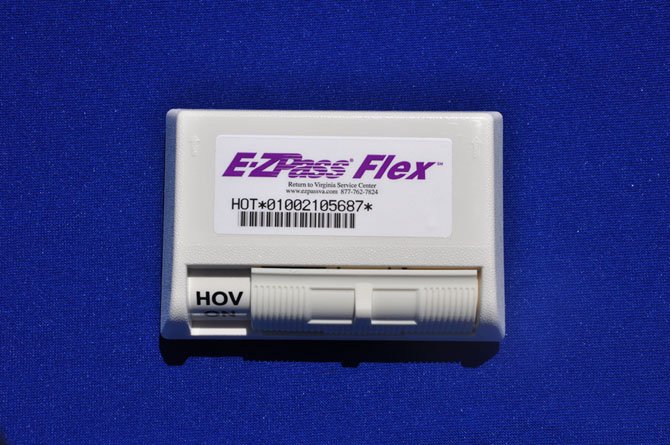 McLean — The Virginia Department of Transportation unveiled the EZ-Pass Flex Wednesday, July 25 in Tysons Corner. The new pass will allow users of the 495 Express Lanes, which are scheduled to open at the end of this year, to switch between tolled and toll-free (for vehicles with more than three people) use.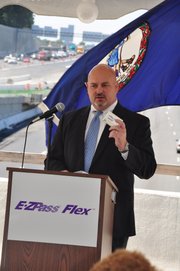 "Carpooling is important in the Commonwealth of Virginia, we're a national leader in HOV, on 95, 66, the Hampton Roads area and soon to be on the 495 Express Lanes," said Charlie Kilpatrick, chief deputy commissioner for VDOT. "The EZ-Pass Flex shows how we're leading the way in technology."
The EZ-Pass Flex transponder is about the size of the units in use today, but feature a toggle switch. This switch will allow HOV vehicles to gain access to the 495 Express Lanes without being charged the variable toll rate that other vehicles will pay. When not in HOV mode, the switch is toggled to normal mode, which will allow tolls to be charged at the standard rate.
"The 495 Express Lanes are an all-electronic facility. There are no places to collect tolls. Because of that, all riders on the lanes should have the pass," Kilpatrick said. "On the toll gantries there will be indicators that show when a vehicle traveling under it is in HOV mode. The state police will have an easy way to recognize vehicles as either HOV or non-HOV and with that they can exercise the necessary enforcement to make sure these lanes are operating properly."
The express lanes will use variable pricing, which changes according to traffic conditions, to allow cars to move along two separated lanes in each direction. The project, which used an estimated 8.5 million man hours, will open at the end of this year, according to general manager Tim Steinhilber, which is according to schedule.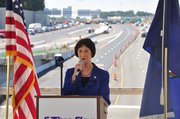 Tysons Corner businesses hope that projects like the Express Lanes and other improvements will improve the quality of life of commuters.
"Commuting is stressful, so anything that can reduce that stress and make it easier for people to get to work, gives us one less worry that people aren't coming to work angry," said Doug Koelemay, vice president for Community Relations for SAIC, which has several facilities in Tysons. "The improved public transportation access will give them options as well."
Fairfax County Board of Supervisors Chairman Sharon Bulova said the new transponders were a "bold step" in shaping the future of transportation in the region.
"We've never had buses on the Beltway because they would merely sit in the same traffic congestion along with everyone else… There are 51,000 Fairfax County commuters that ride public transportation to and from work, and yet the Beltway has never been an option," she said. "Now we have the opportunity, with the new [high occupancy toll] lanes to allow folks in a carpool, with their transponder, to access those lanes, and that's encouraging."
More information on the EZ-Pass Flex can be found at www.ezpassva.com.