Mount Vernon — The Southeast Fairfax Development Corporation recently relocated to the former Metrocall Building, across from Beacon Center, less than two miles from the Huntington Metro, the Beltway, and Old Town Alexandria, and in close proximity to the Beacon Center and the new Beacon of Groveton mixed-use development.
"There is an unprecedented amount of development activity occurring in the corridor between Huntington, Penn Daw, and Groveton, and it is in our organization's best interest to be located in this section of Richmond Highway," said SFDC Executive Director David Versel.
The SFDC was formed by Fairfax County in 1982 to revitalize, market, and serve as a liaison for businesses looking to establish a presence along the Richmond Highway corridor from the Capital Beltway in the north to south at Fort Belvoir.
Profile
David Versel, executive director (appointed November 2011)
Age: 39
Hometown: Rockville, Md.
Education: B.A., architecture, Washington University, St. Louis
Master's degree in city planning, Georgia Institute of Technology
Previous Employment: Economics Research Associates, Washington, D.C.; Southern Maine Regional Planning Commission
Marital Status: Married, wife: Maurisa; 3 children.
The SFDC new address is 6677 Richmond Highway, Second Floor, Alexandria, VA 22306. Telephone: 703-360-5008. Email: infosfdc.org
In a wide-ranging interview with both SFDC staffers this was their responses:
Q. What do you hope to accomplish in the next year?
A. Working under the direction of our board of directors our current focus is to build identity for the individual neighborhoods along the corridor. This includes Huntington, Penn Daw, Groveton, and Hybla Valley, among others. In the next 12 months we will welcome the first phase of the wayfinding signage program, to be installed beginning this coming November. In addition, we will be promoting the lease up of the Beacon at Groveton housing development, completion of Costco, and the Insight Property Group's apartment development at Penn Daw. Each of the neighborhoods on both the east and west side of the Richmond Highway corridor want to improve; our job is to encourage mutually compatible development among all the parties affected.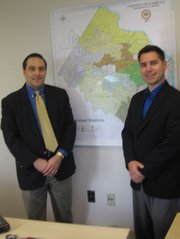 Q. What do you see are the biggest challenges you face?
A. First, to overcome the difficulty of finding sites attractive to developers that can easily be developed. Apart from North Hill that is under the control of Fairfax County, there are no vacant sites with realistic development potential to fulfill SFDC's goals. We have a large number of smaller parcels with existing uses, so the cost and time to acquire, prepare, and redevelop these sites can be challenging. We will be working to improve prospects for connectivity, and securing proffers to help pay for transit and environmental improvements. Secondly, our transportation is currently lacking, exacerbated by problematical intersections and limited east-west connectivity. We need to improve our network of paths and sidewalks. We need rail transportation to take pressure off our roads and better connect with the rest of the metro region. Thirdly, we need to focus on rezoning parcels that are now zoned for small parcel gas stations and strip malls. Fairfax County has revised and updated the Comprehensive Plan to reflect a denser, transit-oriented future. But the county has yet to rezone the parcels to reflect the CP update; we will be stressing action in this area. Until this happens developers will still be looking at parcels requiring a long lead time and requirements to rezone that cause uncertainty and are a challenge to overcome.
Q. What is your vision for the Route 1 Corridor over the long run?
A. We see the Route 1 corridor evolving from the present continuous strip of commercial development into a string of densely developed centers served by rail transit with a variety of housing types and prices located within a short walk of one another. Thirty years ago Arlington in the Wilson Boulevard area resembled the Richmond Highway corridor of today. Arlington committed to investing in transit and dense development around its metro stations and transformed a suburban strip into one of the most vibrant urban corridors in the country. There is no reason that Richmond Highway cannot do the same transformation. New high-quality, dense, walkable developments along northern Virginia's Richmond Highway corridor will serve the residents of the neighborhoods off the highway, and will help the existing neighborhoods' characteristics emerge. A comprehensive transit system will link Huntington, North Gateway, Penn Daw, Groveton, Hybla Valley, Gum Springs, Mount Zephyr, Woodlawn, and Fort Belvoir to the rest of the D.C. region. Included, there will be a greater variety of housing types, shopping, and dining options. To accomplish this ambitious long-term vision we need to enlist all the stakeholders in an effort to bring together the residents and business interests in Lee and Mount Vernon District toward a unified vision.
Profile
David Ben, Director, marketing and communications (appointed March 2012)
Age: 26
Hometown: Lockport, N.Y.
Education: B.A., philosophy, politics and history, Xavier University, Cincinnati
Master's degree, community planning, University of Cincinnati
Marital Status: Single
Previous employment in real estate, Congressional office, community development.