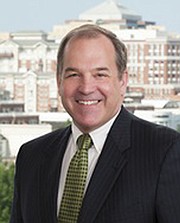 Great news for Richmond Highway! After years of planning and community meetings, the Fairfax County Board of Supervisors gave its approval on Tuesday, March 20 of the most substantial overhaul of transportation and land use planning along Richmond Highway since its construction.
Known as "Embark Richmond Highway," (the "Embark Plan") this new plan recommends widening Richmond Highway to a consistent six lanes, including bicycle and pedestrian facilities and a dedicated transit spine for bus rapid transit (BRT) from Huntington Metro Station to Fort Belvoir, and the eventual extension of Metrorail's Yellow Line.
Central to the Embark Plan is the reinvention of four community business centers (CBCs) at Penn Daw, Beacon Hill/Groveton, Hybla Valley/Gum Springs, and Woodlawn. Each CBC is planned with a walkable pedestrian-friendly grid of streets and higher density development, and in a manner that highlights, respects and builds upon its character.
Over the course of two and a half years, 24 Advisory Group meetings and six community open houses, SFDC served as bridge between the communities along Richmond Highway and the Fairfax County Government staff, whose tremendous efforts cannot be understated. Additionally, as a non-profit, we served as the critical partner for the county's application and subsequent award of a $400,000 grant from the Federal Transit Administration.
The Embark Plan evolved from the "Route 1 Multimodal Alternatives Analysis" led by the Virginia Department of Rail and Public Transportation (DRPT). That analysis, the funding of which was secured by Senators Toddy Puller and Scott Surovell (then a delegate), recommended a "Bus Rapid Transit (BRT) system to be constructed in three phases in the short term and a three-mile extension of the Metrorail Yellow Line to Hybla Valley in the long term." You can read that study at www.drpt.virginia.gov/transit/planning/route-1-mutlimodal-alternatives-analysis/.
Upon completion of the DRPT analysis, the Fairfax County Board of Supervisors authorized the Embark study on May 12, 2015. Shortly thereafter, the 13 member Embark Richmond Highway Advisory Group was formed, comprised of representatives from Mount Vernon and Lee Magisterial Districts.
Six of the 13 advisory group members were also members of SFDC's board, including the co-chairs, Walter Clarke and Dick Knapp. The advisory group worked with the county staff community advocates, ranging from environmental organizations to historical preservationists, to refine and tailor Embark Richmond Highway.
As the economic development organization for the Richmond Highway Corridor, SFDC is uniquely positioned to assist with Embark's planning and implementation. Our staff and board members (designers, urban planners, engineers, developers, bankers, small business representatives and representatives of Mount Vernon and Lee civic groups) are dedicated to marketing Richmond Highway as a place to bring your business. Additionally, our professional expertise and local roots ensure that development projects contribute to the revitalization of the corridor.
Although many issues remain, particularly related to funding and housing affordability, I could not be more proud of our work. Many thanks to Lee District Supervisor Jeff McKay, Mount Vernon District Supervisor Dan Storck, and former Mount Vernon Supervisor Gerry Hyland for their efforts in shepherding the Embark Plan. I am looking forward to continuing our partnership with Fairfax County and working to attract development and business to Richmond Highway. The future is bright.