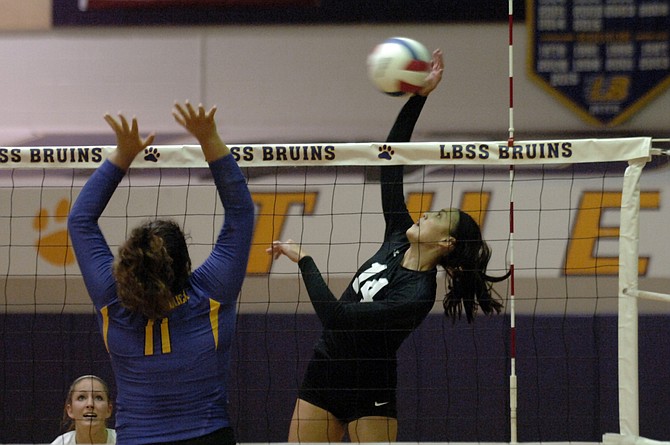 After falling behind multiple times in the first set, the Chantilly volleyball team scored five of the final six points to win the opener against Lake Braddock on Thursday night.
With Chantilly having grabbed momentum, junior Julia Recto did her part to ensure the Chargers remained undefeated.
Chantilly won the first two sets, Recto totaled 21 kills and the Chargers cruised to a 3-1 (25-23, 25-14, 18-25, 25-16) victory at Lake Braddock Secondary School.
Both teams entered Thursday's action unbeaten in best-of-five matches. It was Chantilly that emerged with a 4-0 record, thanks in part to the performance of Recto, who put away eight kills in the fourth and final set.
"Julia is one of our go-to players," Chantilly head coach Charles Ezigbo said. "She's one of those quiet people who just does what you tell her all the time. As a player, she's really good, the girls respond to her and [she is] very coachable. I'm really happy to have her."
Lake Braddock fell to 3-1.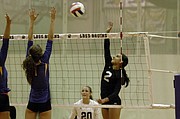 Standing 5 feet 9, Recto is not exceptionally tall, but Ezigbo said her timing and fast arm swing help her to be a dangerous hitter.
"It's more technique than anything," he said.
With Chantilly leading 14-13 in the fourth set, Recto put down three consecutive kills to help the Chargers pull away.
"I really make sure that I get my timing right," said Recto, a third-year varsity player, "and I do a lot of conditioning to make sure that I can out-jump the other blockers and make sure I can get there fast enough and beat them to the net."
Chantilly junior Milleysha Molina finished with seven kills and junior Brynn Feighery had four. Sophomores Alexa Carlisle and Katerina Bagatska each had two blocks, and Feighery and Recto each had one. Senior Emily Sciorra had three aces, and Molina, Recto and junior Julia Kim each had one.
"I think we're doing really well," Recto said about Chantilly's 4-0 start. "We still have a lot of work to do but we have a lot of potential to be even better than we were tonight."
Thursday's match might have had a different outcome if Lake Braddock was able to close out the opening set. The Bruins led 22-20, but scored just one of the final six points.
After a Lake Braddock attack error brought Chantilly within one, Bagatska produced a kill and a block to give the Chargers a 23-22 lead. A Chantilly service error tied the score at 23, but the Chargers secured the set with a kill by Feighery and an ace from Molina.
"This game is all about momentum and when that happened I think we started feeling a little bit more within our game," Ezigbo said. "We just weren't playing really well earlier. … They basically took us out of our game so we had to get back into the game and I think that run kind of gave us our confidence back a little bit."
Lake Braddock head coach Aubrey Eaton said the Bruins' miscues played a significant role in the outcome.
"I don't think Chantilly did anything, I think we did it to ourselves," Eaton said. "Give them all the credit, of course, because they won that set, but I really believe that was on us, that we just basically allowed Chantilly to get back in the match. Maybe it did swing momentum that way, but I felt like we had control and then we let them get control again."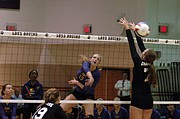 Katie Hibner, a 5-foot-8 sophomore outside hitter, led Lake Braddock with 13 kills, including 10 in the third and fourth sets.
"Katie Hibner was excellent tonight," Eaton said. "She always takes a little while to warm up to the game and you just have to go through that … but once she gets going, she really does get going."
Senior middle blocker Faith Briden had five kills, two blocks, one block assist and two aces for the Bruins. Senior right side Miranda Cortez had five kills, one solo block and one block assist. Junior defensive specialist Danielle Beirman had two aces.
Eaton said senior libero Tara Wulf, and junior setters Grace Bergan and Maddy Sita played well for the Bruins.
Chantilly will host Fairfax at 7:15 p.m. on Tuesday.
Lake Braddock will travel to face Yorktown at 7:15 p.m. on Tuesday.
"I think that what we showed today was that we could play with the big girls and I'm looking forward to more of that," Eaton said. "I think we'll be real contenders in our conference and then also in the region, as well."