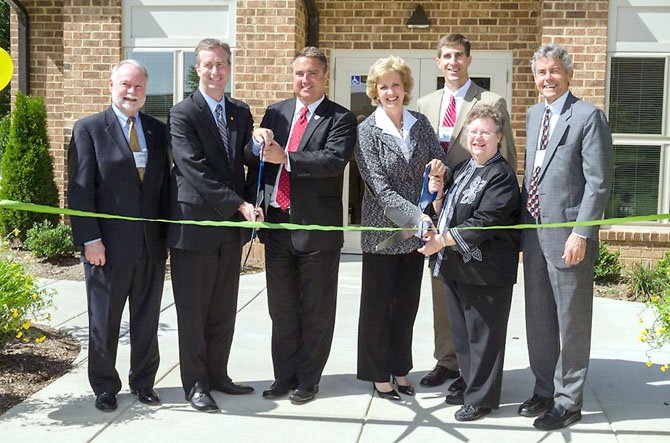 Mayor R. Scott Silverthorne and City Manager Bob Sisson joined residents of West Wood Oaks Apartments, located in the heart of Fairfax, to celebrate the community's $6.7 million green renovation and brand-new clubhouse, just completed by Community Preservation and Development Corporation (CPDC). Known as Suburbia Fairfax before the renovation, the 54-unit property is the only dedicated affordable property in the City of Fairfax by virtue of its income restrictions.
As Northern Virginia's economy continues to thrive, rents have outpaced household incomes, meaning that families must spend more of their hard-earned dollars on housing costs. A study by the National Low-Income Housing Coalition showed that a household in Fairfax must earn $60,240 per year to afford a typical two-bedroom apartment, a level that is out of reach for many types of professions, such as teachers, social workers and health care workers.
The renovation of West Wood Oaks will ensure quality apartments at rents affordable to many families who otherwise could not afford to live in Fairfax. The property includes 39 apartments reserved for households earning 50 percent or less of area median, considering their family size. Rents for these apartments are 25 percent lower than the average apartment rent in the City of Fairfax. The other 15 apartments are reserved for households earning 51 to 95 percent of the area median.
"This residential community has been a great asset to the city, helping to ensure that people who work in the area can afford to live here," said Silverthorne. "We are delighted that CPDC decided to preserve and update the property for the long term with this wonderful green renovation and beautiful new clubhouse."
"Our mission is to ensure that communities include high-quality housing that families of all incomes can afford, and we certainly have that here in the City of Fairfax," stated CPDC President and CEO J. Michael Pitchford.
Wilma Huff moved to West Wood Oaks 35 years ago after praying to find a safe, affordable place to call home near her job, then at the National Bank of Fairfax. She moved on to a 25-year career with the City of Fairfax, appreciating her convenient location less than a mile from City Hall and the friendliness of her neighbors. Recently retired, Huff now can stay in a renovated apartment near doctors, shopping and good neighbors. "I feel fortunate to have a beautiful new apartment in a place that is really a small community, rather than an apartment building," she said. "I commend the owners for improving the property and keeping it affordable for the next generation."