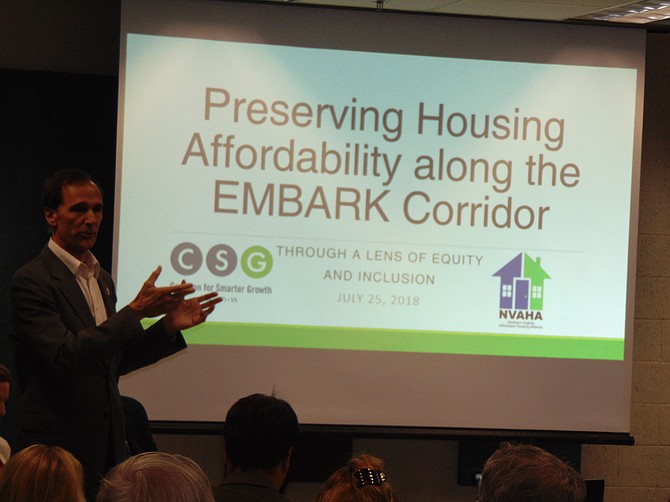 The Challenge
According to the Center for Housing Research at Virginia Tech, the total affordable housing gap in Fairfax County for low-and moderate-income renters — earning 80 percent of the area median income (AMI) and below — is approximately 31,630 units.
More Information
For the Fairfax County Housing Department presentation and report, visit:
An overflow crowd of community leaders, real estate professionals, builders, and affordable housing advocates gathered July 25 at the Mount Vernon Governmental Center to focus on housing options for low-income people.
Mount Vernon Supervisor Dan Storck opened the meeting and expressed his commitment to do what he can to work with the community leaders and residents to help identify and preserve affordable housing.
Michelle Crocker, director of the Northern Virginia Affordable Housing Alliance, which sponsored the meeting, served as the convener and facilitator for the event. Following the forum, Crocker and AHA consultant Michael Spotts of Neighborhood Fundamentals, LLC, discussed their report's findings and summarized their thoughts jointly as follows:
"Reference: July, 2018 'Northern Virginia's AHA Preservation Challenge: Trends, Threats and Opportunities.' The report was the foundation for the forum we held on July 25, examining preservation of market-affordable housing for very low income households along the Richmond Highway corridor.
"Analysis: The inner Northern Virginia jurisdictions of the City of Alexandria, Arlington County, and Fairfax County are rapidly losing their stock of market-rate rental housing that is affordable to low- and moderate income households. For example, the City of Alexandria saw an 88 percent reduction from 2000-2018 in market affordable units at 60 percent of AMI (from 18,218 to 2,236 units). During the same time period, Arlington County lost more than 14,500 market affordable units at 60 percent of AMI, mostly as a result of increases in rent.
"Further exacerbating preservation challenges is the fact that the subsidy restrictions for many committed affordable units eventually expire, leaving properties at risk of conversion to market rate. To address these challenges, the Northern Virginia Affordable Housing Alliance (NVAHA) concludes that a renewed commitment and corresponding policy and funding activities is necessary to ensure that the region's workforce has access to safe, decent, and affordable housing. Northern Virginia's Preservation Challenge informs stakeholders across the region about the need for preserving affordable rental housing and the potential policy, programmatic, and financial solutions for achieving that goal. The report provides a detailed overview of the trends and challenges that are contributing to the loss of affordable homes, and offers 22 recommendations for local and regional stakeholders that fall into three broad categories: Interventions to help mission-driven developers acquire properties; Interventions to encourage existing owners to maintain affordability; and Incentives to encourage affordability through rehabilitation and/or redevelopment.
"The threat to the affordable housing stock is an unintended consequence of the adoption of the EMBARK Richmond Highway plan by the Board of Supervisors in May, 2018. The plan calls for the creation of BRT, identifies new community business centers and brings jobs and opportunities to the corridor. But this new scale of development threatens older existing market affordable housing stock which is home to hundreds of households along Richmond Highway.
"The goal of our forum was to shine a light on this issue and call for county action to preserve affordability so that there is no net loss of affordable units. Our panel shared Arlington's plan for redevelopment along the Columbia Pike corridor (similar circumstances to Richmond Highway), heard from a large affordable housing developer as well as a nonprofit developer, and looked more closely at Fairfax County's One Fairfax policy. The overwhelming majority of households currently living in market affordable housing along Route 1 are people of color.
"The NVAHA is a nonprofit organization dedicated to expanding political will to make housing affordability a regional priority through: education and community outreach, leading to creative and supportive public policies;
increased financial resources; and, a sustained commitment to meeting the housing needs of low- and moderate-income households.
"Our activities raise public awareness and provide educational materials and programs for communities on the topic of affordable housing. We focus on the community benefits of affordable communities, addressing housing myths and misconceptions. We collaborate with many partners: community-based organizations, faith-based communities, civic associations, local governments, and chambers of commerce to provide balance to the growth and development voices who are well organized, vocal, and too often misinformed."
Also in attendance was Tom Fleetwood, director, Fairfax County Housing and Community Development. At the conclusion of the meeting, Fleetwood was asked to prepare remarks and answer questions to explain what his office is doing to expand the number of affordable housing units in Fairfax County. This is Fleetwood's response regarding the affordable housing situation and examples of what they are doing to advance affordable housing stock in Fairfax County:
"Fairfax County's Housing Blueprint reflects our belief that housing should be affordable to a range of households. This ranges from people coming out of homelessness, to people with special needs, to low-income workers who work here but cannot afford to live here, and our more moderate income workforce. We believe that having a continuum of housing affordability is essential to the economic health of the county.

"Several examples of current preservation activities by the Fairfax County Redevelopment and Housing Authority (FCRHA) are as follows:
"Murraygate Village Apartments: Murraygate Village Apartments is located off of the Route 1 corridor of Alexandria in the Lee District. The property was originally built in 1971 and consists of 204-units (200 rentable) in eight buildings. The FCRHA purchased the property in 1991. The rehabilitation of this property is comprehensive in nature and will promote long-term sustainability and energy efficiency. Renovations include installing new kitchens and bathrooms, new flooring, and upgrading electrical and plumbing systems. Renovations are expected to be complete by mid-2020. The FCRHA will provide approximately $3.7 million in Housing Blueprint Funds and $20 million in tax-exempt bonds for this project. In addition, funds will be utilized from FHA financing and tax credit equity, through the Low-Income Housing Tax Credit Program, as well.

"Huntington Gardens: In 2016, the FCRHA approved up to $5.65 million in a loan to Christian Relief Services of Virginia (CRSVA), an affiliate of the 501(c)(3) non-profit housing developer Christian Relief Services Charities, for the acquisition of a 113-unit apartment complex, Huntington Gardens, in the Lee District. Today, the property has added an additional 113 committed housing units to the county's affordable housing stock, including 28 units for homeless and chronically homeless individuals. The remaining units are affordable to households with incomes at or below 60 percent of the Area Median Income (AMI).
"Wexford Manor: Wexford Manor consists of two buildings in Falls Church with 74 units of affordable housing, serving families at or below 60 percent of AMI. The FCRHA provided $2.9 million in Housing Blueprint Funds to Wesley Housing to help renovate the community. In addition, funds were provided by VHDA and tax credit equity, through the Low-Income Housing Tax Credit Program, as well.
"Lindsay Hill: Lindsay Hill apartments is an affordable senior living community in Lorton (Mount Vernon District) containing 55 units of senior housing. The FCRHA helped to develop the community by providing a Housing Blueprint Loan of up to $590,000 and eight Project-Based Vouchers, in addition to funding from state and federal tax credit programs, and the Virginia Housing Development Authority's (VHDA) Low Income Housing Tax Credit program. Tax credits, coupled with permanent mortgage financing from the FCRHA and VHDA, allowed for the adaptive reuse of the five historic buildings which were once part of a former reformatory.
"Wedgewood: The Wedgewood Apartments complex (Wedgewood), built in the 1960s, is a garden-style multifamily rental community located on Little River Turnpike and McWhorter Road in Annandale, Virginia (Mason District). It was purchased by the Board of Supervisors in 2007 for a purchase price of $107.5 million. The property sits on approximately 35 acres and consist of 672 units of affordable housing (56 multifamily buildings and 15 rental townhomes). Limited renovations are being done to further preserve the property for a total of approximately $7.4 million.
"Special Note: Through the Virginia Public-Private Education Facilities and Infrastructure Act of 2002 (PPEA) Fairfax County is able to create new affordable housing opportunities for little to no cost for the local county taxpayer:
"The North Hill project is being developed using the PPEA model mentioned above. North Hill, a 35-acre vacant lot off of Richmond Highway in south Alexandria, is slated to become a mixed income, affordable and market rate housing community comprised of: 219 affordable and workforce apartments; 60 affordable independent living units for seniors; 175 market rate townhomes; and 12-acre public park.
"The Residences at Government Center is a community located off of Monument Drive in Fairfax. It offers 270 affordable rental units for the Fairfax County workforce. By leasing land under a 99-year ground lease with the county and accessing federal low-income housing tax credits the community was developed at no cost to local taxpayers. This community celebrated its grand opening on June 5, 2017. Fairfax County Redevelopment and Housing Authority provided a portion of financing; $13 million, in tax-exempt bonds to help build the community.
"The Fallstead at Lewinsville Center is another great project. This community will offer 82 units of senior independent-living residences in Mclean. At no cost to the county, Wesley-Hamel will design, develop, construct, own and operate the housing community under a 99-year ground lease with the county. The county financed about $17 million to design and construct the public facility which will house the adult day health care facility, senior center, and two privately owned child day-care centers. Construction has started on this project and completion is anticipated in 2018.
"Other projects:
"In February 2018, Fairfax County Board of Supervisors approved the FCRHA to make loans totaling $7.4 million to Wesley Housing Development Corporation (WHDC) for the construction of two buildings consisting of a total of 126 units of affordable housing to be known collectively as The Ardens in the Mount Vernon District."
Regarding the Affordable Housing Forum event that took place at the Mount Vernon Government Center last week, Fleetwood said, "I thank the Northern Virginia Affordable Housing Alliance for highlighting the issue of affordable housing preservation in Fairfax County, particularly in the Richmond Highway corridor, and its connection to the One Fairfax equity policy. As we continue to focus on the housing needs of low- to moderate-income residents in the area, we look forward to ongoing conversations with our partners and the general public."