As news of 17-year-old Bryan Glenn's death spread throughout the community Monday, Oct. 8, condolences poured out to the Glenn family, in person and on the Facebook page launched last week to help find the W.T. Woodson High School senior who went missing on Oct. 1.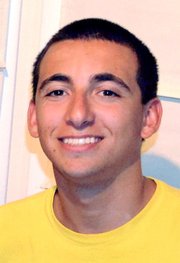 More than 3,000 people from around the world posted poems, memories and offers of help to the Glenn family, who confirmed late Monday that their son's body had been found in Thaiss Park on Pickett Road. In a statement released Monday night, Bryan's parents, Michael and Rosella Glenn, said:
"With tremendous sadness in our hearts, we learned this afternoon of our son Bryan's death. This devastating news has been a great shock to our family and friends. Right now this family and our community are grieving and we need to let the investigation run its course. Thanks to everyone in the community and around the globe who offered their love, prayers and support to our family over the past week. Your kindness has given us strength during this difficult time and has touched our hearts forever. Our family would like to express our profound gratitude to the hundreds of volunteers and search team leads. Special thanks to the media and Fairfax area businesses for their continued support."
Authorities have not yet officially identified the body as Glenn's. According to Lucy Caldwell, public information officer for the Fairfax County Police Department, their office is currently waiting for the Office of the Medical Examiner to determine identity, cause and manner of death.
"I am not sure when that will be determined; possibly today or tomorrow," Caldwell said in an email Tuesday, Oct. 9.
Glenn, a popular Woodson football player, was reported missing on Monday, Oct. 1. According to police, he was last seen on the high school campus around 7 a.m. last Monday. His car was found in the parking lot next to the baseball field at Thaiss Memorial Park early the next morning.
During the past week, more than 400 friends, family members and police combed the wooded area near the park several times for any evidence of the missing teen. According to his family, Glenn's body was discovered by searchers Monday morning, Oct. 8.
"My thoughts and my prayers are with the Glenn family. Our family was on the search yesterday and our prayers are for strength for the Glenns to get through this time… Please be strong and remember that you have a lot of support and we are also feeling a deep pain and loss for precious Bryan. He has touched many lives…," posted Shannon Lee on the Facebook group "find Bryan Glenn" on Tuesday.
Glenn, who attended Heidelberg High School (HHS) in Germany from 2009 to 2011, was also remembered by his friends from HHS Tuesday evening.
Several messages were posted on the HHS memorial website, which noted that the school will hold a memorial gathering on Wednesday at 7:30 a.m. at the sports field.
To demonstrate their sorrow over losing their senior classmate, Woodson students wore black to school on Tuesday. Glenn's family has not yet announced plans for funeral arrangements for their son.