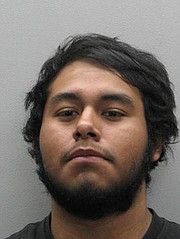 Nearly a month after Matthew Brian Ortega's lifeless body was found lying on a Centreville street, Fairfax County police have charged a Fairfax City teen with his murder. He is Uriel Josaphat Espinosa Cruz, 18, and officers arrested him last Tuesday afternoon, March 13.
Ortega, 17, was a junior at Centreville High and, initially, detectives sought the public's help to identify him. On Feb. 14, at 5:17 a.m., a delivery driver discovered him in the 13000 block of Jeb Stuart Square and notified police. Ortega had sustained upper-body trauma, and medics pronounced him dead at the scene.
No weapons were found there, and the Office of the Chief Medical Examiner conducted an autopsy to determine the exact cause and manner of Ortega's death. Two days later, homicide detectives released his identity. And on Feb. 22, the medical examiner ruled that he died from a single, gunshot wound.
Again, police asked the public to contact them with any information that could possibly lead to Ortega's killer. Then last week, they took Espinosa Cruz into custody and charged him with murder and use of a firearm in the commission of a felony. Police say detectives "do not believe this to be a random incident."
THE INVESTIGATION is ongoing. Meanwhile, the suspect is being held without bond at the Adult Detention Center. And according to a jail spokeswoman, he also has an ICE (Immigration and Customs Enforcement) detainer on him. He was arraigned in court last Wednesday morning, March 14, and his next court date is slated for April 16.
After Ortega was identified, Centreville High School Principal Dave Jagels sent a message to all the school's parents, saying the Wildcat community was "deeply saddened by the death of Matthew Ortega." He said the incident was under police investigation and that anyone with information related to Ortega's death should call the police at 703-691-2131.
"I have contacted Matthew's family to offer them our condolences and support," wrote Jagels. "We are letting you know so that you can provide any support your child might need." He also told parents that crisis-team members would be available at the school that week "to work with individual students and class groups who ask for support."
"Understanding death, especially the death of a classmate, can be a very difficult experience," he continued. "For that reason, we hope that you will listen to your son or daughter, as well as discuss with them their feelings and reactions to this tragedy."
"On behalf of all members of the school staff, our deepest condolences are with Matthew's family and friends during this difficult time," wrote Jagels. "He was a bright and engaging student who will be greatly missed by our school community."
A Go Fund Me page was started on Facebook to help the family with Matthew's funeral expenses and raised more than $16,000. On that page, a relative wrote that Matthew's mother was "the only parent Matthew had left.
"THE FAMILY had recently lost their dad, not too long ago. This tragedy isn't only difficult, but heartbreaking. Thank you all so much for all the love you have shown for little Matthew. God bless. Our Matthew will always be remembered. We love you, little brother."
Also on that page, he was described as a "son, brother, uncle and very loved by many." And on his own Facebook page, in mid-February, Matthew's older brother thanked everybody "for the overwhelming support during these last few days. My little brother is surely looking down from heaven and appreciating how you all have come together in love to support us."