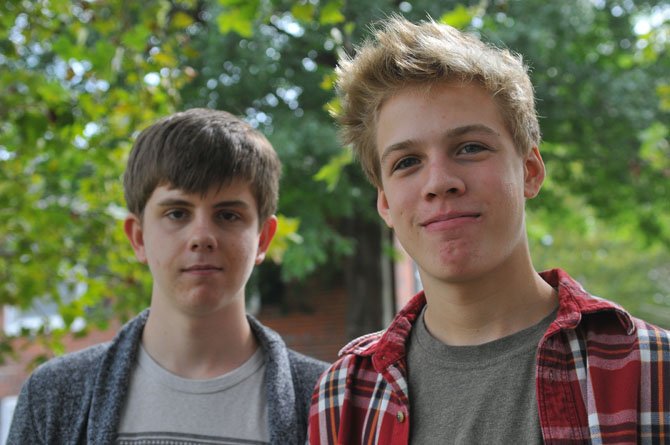 Mount Vernon — When Wake Coulter and Adam Privette walked on the streets last summer, distributing flyers and business cards and telling strangers about their graphic design business, they saw confusion and hesitance on most people's faces.
"We usually send them our portfolio later to let them see what we've done," 17-year-old Coulter said. "That shows them we're pretty professional."
These two West Potomac High School seniors wearing T-shirts, casual plaid shirts and sneakers started "Creativity Ward" on their own, to provide such services as designing logos, posters, flyers and websites, as well as photo editing and video production. They create a website and a logo — two snakes around a paintbrush — to make the business "official."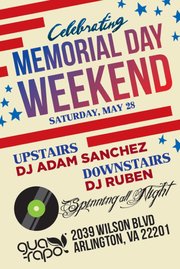 "Adam is pretty independent," said his mother, Colleen Privette. "We just provided him a computer. He knows what he needs to do. I'm very impressed with their entrepreneurial skills."
Since then, they've been promoting their brand through Facebook and Twitter accounts. They have worked with at least a dozen clients, coming up with ideas, using Adobe InDesign, Illustrator and Photoshop to design whatever clients need. Whether a poster for a concert, a brochure for an IT company, or a Facebook page for a local restaurant, Coulter and Privette always do multiple rounds of revisions until clients are happy.
"I think we're really good at this," Privette said. "We have a very modern appeal, I think. A lot of graphic designers like to do something in a more of complex way to make things look better. We really take a simpler approach. A lot of stuff we do is clean and smooth."
They charged for $10 an hour when they first started the business. Now they raised that to $15 to $20 per hour for logo, flyer and poster design, $500 flat rate for creating a website. And they usually charge less for their school design projects.
"We can really offer something that nobody else we know of can offer," Privette said. "We can do it in less amount time and pretty affordable."
Coulter and Privette now are able to earn some extra dollars from their business. Privette bought himself a DSLR camera since he enjoys photography; Coulter puts the money he earned to his saving account. "I don't know what I'm saving for," he said. "Maybe for a new computer or a big camera, hopefully something can help accelerate my art graphic stuff."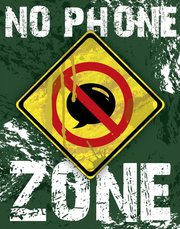 Coulter and Privette learned graphic design basics at their freshman year and developed a strong interest in graphic design. Coulter works for the school newspaper as the focus editor and graphic designer, designing pages, formatting features and writing articles. Influenced by his father, who was a veteran illustrator at The Washington Post, Coulter liked drawing since he was little.
"Wake is a good drawer," said his father William Coulter. "We drew a lot together. I think he's more talented than I ever was. I'm glad they can find something to help their creativity. They have good taste and good design sense."
Privette obtained hands-on experience by working for Curcio Communications as a design assistant one year ago, where he designed event flyers, created PowerPoint presentations, improved clients' websites and their online presence.
"Adam has been given a breadth of assignments that he has completed efficiently and creatively," sais Gale Curcio, who runs the company. "He is very bright, motivated and brings a fresh look to every task."
Although confident about their creativity and design skills, Privette says the hardest part of the business is to work with people, and they're still working on it. Some clients may not agree on an idea Coulter and Privette come up with; some clients may stop contacting them when the project's going on. But these occasional incidents teach them lessons that not to be learned from school.
"I think it really prepares me for the real world," Privette said. "I've learned a lot about how to communicate with people. I can actually go into a store and have conversation with people without feeling awkward. I would never be able to do it at all before."
As high school seniors, Coulter and Privette now only have time to work on the design business during weekends or evenings after finishing homework. Both of them want to pursue something related to the graphic design business in the future. Privette would like to do business or marketing. "I'm more business oriented," he said. "I work a lot with clients. I think that's what I really fit into."
"I definitely will start my own business in college if Adam and I go to different colleges," Coulter said. "And I want to study studio art — that kind of stuff. I also want to be an illustrator."