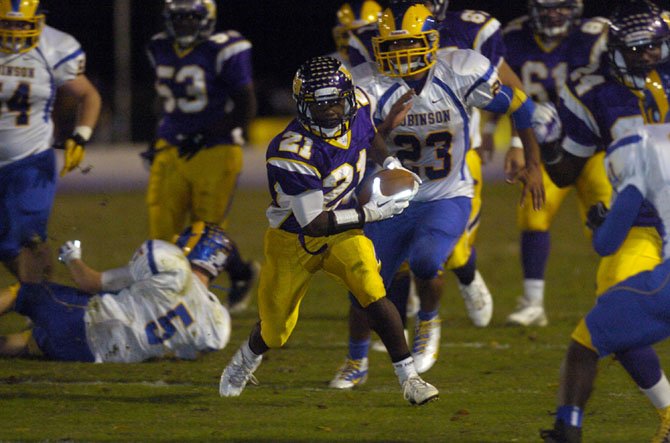 Burke — The Robinson Rams had the ball on the Lake Braddock two-yard line in the closing moments of the teams' rivalry football matchup on Oct. 12 when Bruins defensive back Rory Renzi shouted encouragement to his teammates.
"Twelve seconds!" Renzi said. "Don't give them anything!"
The outcome was all but decided as Lake Braddock held a 25-point lead. That didn't matter. This was about pride.
Lake Braddock stuffed Robinson standout running back Joe Wilson at the one-yard line on the game's final play and the Bruins ended a lengthy regular-season losing streak against the Rams with a 32-7 homecoming victory at Lake Braddock Secondary School.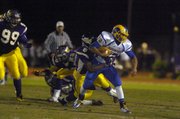 WILSON CARRIED 12 TIMES for 72 yards and a touchdown on Robinson's opening drive as the Rams jumped out to a 7-0 lead. From that point, however, the Lake Braddock defense stymied Robinson's ground-oriented offense, limiting Wilson to 49 yards on his final 20 carries.
"I thought [defensive coordinator Eric] Henderson did a good job mixing the front up and kind of changing the scheme," Lake Braddock head coach Jim Poythress said. "He had a back-up plan.… I thought that we played smart. Joe Wilson is a heck of a football player. In the beginning, you saw us running up field and he'd cut and we'd miss and we'd look silly. Then we kind of built walls and tried to [force] him [to] run through the walls and to dominate up front and we were able to do that, and that kind of changed the course of the game."
According to stats from the Washington Post's Web site, Wilson leads the Washington, D.C. metro area in rushing yards (1,548) and touchdowns (22) through seven games. He rushed for at least 230 yards against four opponents and twice scored six touchdowns in a single game. Wilson carried 31 times for 413 yards, caught one pass for 34 yards and scored six touchdowns against T.C. Williams on Sept. 14. He rushed 31 times for 262 yards and six scores against South County on Sept. 28.
"We're getting better. We're amongst the better teams. I wouldn't say we're the cream of the crop, but we'll continue to work. We have a little bit of time to try to put some icing on the cake."

—Lake Braddock football coach Jim Poythress
While Wilson got off to a strong start against Lake Braddock, the Bruins made the necessary adjustments to contain No. 32. Wilson finished with 32 carries for 121 yards and a touchdown.
"[Opposing defenses] know who the ball is going to most of the time," Wilson said after the game, "so it's hard for me to find the holes."
While Lake Braddock bottled up Wilson, the Bruins offense got things going on the ground. Senior Aaron Hollins, who moved from receiver to running back earlier in the season, carried 17 times for 95 yards and two touchdowns. His 32-yard scoring scamper gave the Bruins a 19-7 lead with 5:57 remaining in the second quarter.
"This whole day, everyone was talking about Joe Wilson, Joe Wilson," Hollins said. "That didn't even put me down. I stayed focused and that motivated me."
Hollins also scored on an 11-yard run in the fourth quarter.
"I don't know if there's a quicker kid around," Poythress said. "Here's a kid who just can stop on a dime and get going. He's a difference-maker for us. It's opening up our running attack. We're a much different football team with him playing there and some of the other personnel changes that we made."
Poythress also said Jason Hoskins, who moved from running back to defensive back earlier in the year, played well against Robinson. Hoskins had four tackles.
Lake Braddock quarterback Caleb Henderson completed 14 of 21 passes for 95 yards a touchdown. He carried 12 times for 51 yards, including an 11-yard, game-tying touchdown run early in the second quarter.
THREE PLAYS LATER, Renzi intercepted a Robinson pass and returned it 21 yards for a touchdown, giving the Bruins a 13-7 lead they wouldn't relinquish.
"We just knew we were going to win the whole time," Renzi said. "We believed it. We didn't think; we believed it."
Defensive lineman Joseph Achour led Lake Braddock with 11 tackles and one sack. Achour attended Robinson as a freshman.
"This is my old school, so it's the best feeling in the world," he said. "This is the most important game in my high school career, my senior year, especially homecoming. This meant the world to me."
The Lake Braddock defense also benefited from the return of lineman Romario Peart, who had four tackles and a 1/2 sack while playing in his first full game coming off an injury.
"It felt great," Peart said. "I missed my teammates so much."
Linebacker Patrick Farrell had 10 tackles for Lake Braddock and linebacker Kevin Hankton had eight. Linebacker Dwight Lomax had seven tackles, including a team-high four solos, and a 1/2 sack.
On offense, receiver Austin Wolfe had eight receptions for 60 yards and a touchdown.
Robinson (3-4 overall, 1-1 Concorde District) will host Herndon for homecoming at 7:30 p.m. on Friday, Oct. 19. Lake Braddock (5-2, 4-0 Patriot District) has won four in a row and will travel to face Lee at 7:30 p.m. on Friday, Oct. 19.
"We're getting better," Poythress said. "We're amongst the better teams. I wouldn't say we're the cream of the crop, but we'll continue to work. We have a little bit of time to try to put some icing on the cake."