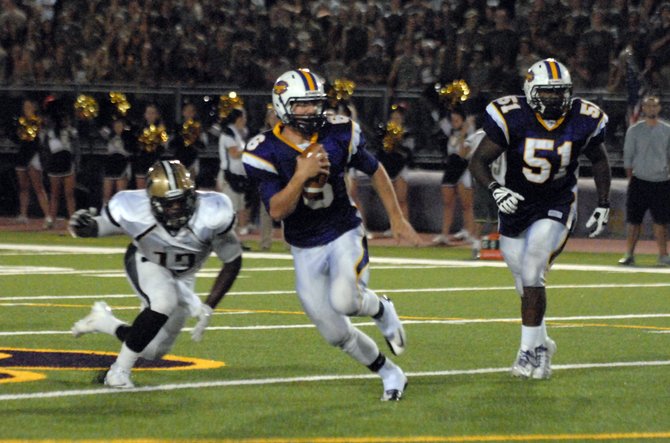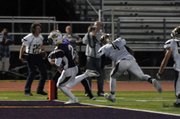 Caleb Henderson's voice had nearly vanished when he declined to be interviewed after Friday's contest against Westfield. A few minutes later, with the help of a cough drop, the Lake Braddock quarterback returned to answer questions.
During the game, Henderson had to overcome a different ailment to lead his team to victory.
Despite suffering from cramps in his hamstrings and calves during the second half, Henderson led Lake Braddock on a 72-yard scoring drive in the game's closing minutes, capped by a 20-yard touchdown pass to AJ Alexander that lifted the Bruins to a 28-24 victory over Westfield at Lake Braddock Secondary School.
Playing for the first time on their new turf field, the Bruins beat a Westfield program that finished region runner-up the last two years and hadn't lost a regular season game since October of 2010. Lake Braddock improved to 3-0 in 2013, including road wins against rival Robinson and perennial power Stone Bridge.
What does it mean to open the season with three tough victories?
"The first thing that comes to me is never schedule these three teams again," Lake Braddock head coach Jim Poythress said. "The second thing is that we have a pretty good football team … a team that could really make a run in the playoffs. But … if we don't improve, we'll be one and done."
Westfield took a 24-21 lead when Dominique Pearson scored on a 3-yard run and the Bulldogs added a two-point conversion with 3:11 remaining in the fourth quarter. Lake Braddock started its ensuing drive at its own 28-yard line and Henderson moved the Bruins down the field in seven plays. Facing third-and-eight at the Westfield 20, Henderson found Alexander for the go-ahead touchdown.
Westfield drove to the Lake Braddock 33-yard line during its final possession, but Bruins defensive back Timothy Coulter ended the threat with an interception.
Henderson, who is committed to the University of North Carolina, completed 15 of 25 passes for 243 yards and three touchdowns. It was Henderson's first victory in four games against Westfield, including a pair of losses against the Bulldogs as a sophomore at West Potomac. Last season, Henderson's first with Lake Braddock, the Bruins lost to Westfield, 49-29.
"I think he's come a long way in his two years here," Poythress said about Henderson. "To his credit, this kid's laying on the sideline in between drives completely cramped up. ... He was firing the rock. He stepped up and he wanted to win."
Henderson attributed his cramps to consuming a pregame energy drink.
"We practice one-minute drills every day, [starters versus starters], we score almost every time," Henderson said. "The defense gets mad at us, but that's just the type of fire power we have on offense [and] that's the type of chemistry I have with my receivers."
"The first thing that comes to me is never schedule these three teams again. The second thing is that we have a pretty good football team … a team that could really make a run in the playoffs. But … if we don't improve, we'll be one and done."

--- Lake Braddock football coach Jim Poythress
One of those receivers is Ryan Antonellis, a 6-foot-4, 230-pound tight end who finished with five catches for 132 yards and a score.
"I've never seen an athlete like Ryan," Henderson said. "You stick a linebacker on him, he'll run right by him. You stick a corner on him and he'll just go up and get it over the corner."
Antonellis' 5-yard touchdown reception in the first quarter gave Lake Braddock a 14-9 lead. Antonellis kept the scoring drive alive with a 69-yard reception on a third-and-10 play.
"Me and Caleb are basically best friends ever since he got here," Antonellis said. "… We have a really close connection, so it was really good getting on the same page tonight …"
During the Bruins' game-winning drive, Henderson connected with Antonellis for gains of 22 and 26 yards.
"He stepped up," Poythress said about Antonellis. "They kick on the lights, they're going to have this ribbon-cutting for the field, the media is here and it's a big game, and we wanted to see who would step up when they turned the lights on and he certainly did."
Lake Braddock took a 21-9 lead when Henderson found Vince Sica for a 45-yard touchdown with 8:23 left in the third quarter. Westfield responded on the second play of its ensuing drive when running back Tyler Thrasher-Walker scored on a 61-yard run, cutting the Bruins' lead to 21-16.
Thrasher-Walker carried 26 times for 188 yards. Fullback Evan Gray rushed for 107 yards and a touchdown on five carries. His 78-yard touchdown run in the first quarter tied the score at 7-all.
Lake Braddock running back Trevor O'Brien carried 15 times for 95 yards and a touchdown. Alexander had six catches for 55 yards and Sica finished with three receptions for 51 yards.
Lake Braddock will host Annandale at 7:30 p.m. on Friday, Sept. 27. Westfield will host Fairfax.