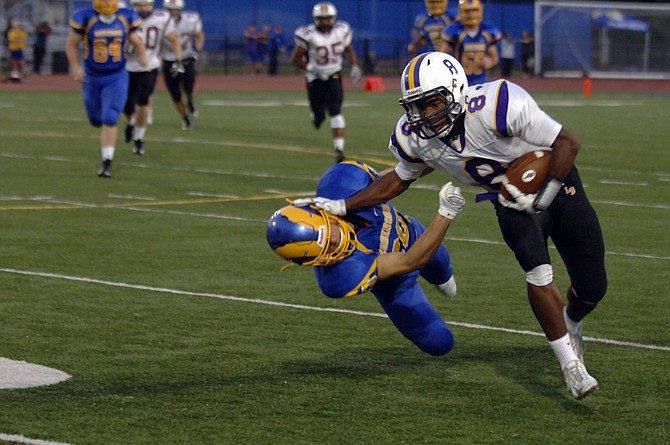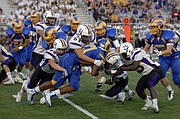 After outscoring Lee and Annandale 109-0 in its first two games, the Lake Braddock football team appeared on its way to a third consecutive lopsided victory when the Bruins entered halftime of Friday's rivalry contest against Robinson with a three-touchdown lead.
But thanks to a conservative second-half approach by Lake Braddock and a pair of fourth-quarter touchdown passes by Robinson, a potential blowout turned into an early-season test for the Bruins.
Robinson tight end Mason Velasquez's second touchdown reception pulled the Rams within a single score with 32 seconds remaining, but Lake Braddock recovered the ensuing onside kick and held on for a 21-14 victory at Robinson Secondary School.
Lake Braddock improved to 3-0, while Robinson fell to 1-2.
The Lake Braddock defense held opponents scoreless for the first 11 quarters of the season before surrendering two touchdowns to Robinson in Friday's final 10 minutes. The Bruins also failed to score in the second half after producing 130 points in the season's first 10 quarters.
"We killed them early," Lake Braddock junior running back/safety Lamont Atkins said. "Offensive line did great, defense did great, we all did great, but then in the second half we had a couple mental errors. … It shouldn't have been close, but, as I said, we had a couple mental breakdowns."
The Bruins built a 21-0 halftime lead with a run-heavy offense. Lake Braddock continued to pound the ball on the ground in the second half, but found limited success.
After the game, Lake Braddock head coach Jim Poythress wondered whether the Bruins should have turned to the passing game in the second half.
"Maybe I got too conservative --- run it down, run the clock down," Poythress said. "We probably should have spread them out at that point and chucked it. We had them about to break, and I just wanted to stay with what we were doing. [The Robinson defense loaded] it up and [that] makes it hard to run."
Meanwhile, Robinson started creeping back into the game. Rams quarterback Alex Miller rolled to his left and connected with Velasquez for a 16-yard touchdown with 9:38 remaining, cutting the Lake Braddock lead to 21-7.
Later, after stopping the Bruins on fourth and 2 with less than 2 minutes remaining, the Rams needed 41 seconds to drive 93 yards in five plays, cutting the Lake Braddock lead to seven when Miller hit Velasquez for a 30-yard touchdown.
Poythress said he could sense nervousness on the Lake Braddock sideline late in the game.
"They need to develop confidence and they need to learn how to put people away," he said. "When we can do that, we'll have a good team. Until then, we're just a pretty good team."
The Bruins held on to win, recovering the ensuing onside kick and running out the clock with three kneel downs.
Lake Braddock ran the ball 36 times for 108 yards and two touchdowns.
"I would describe it as smash-mouth football," Atkins said. "We just let our linemen do what they need to do and they did a great job today. We just did what we do best."
Atkins finished with 11 carries, often times taking a direct snap, and a team-high 72 yards. His 5-yard touchdown run with 35 seconds remaining in the first half gave Lake Braddock a 21-0 lead.
"We've been after him to run harder and let his speed take over," Poythress said. "I thought he did a good job."
Edwards carried 17 times for 18 yards and a touchdown.
"Smash mouth," is how Edwards described Lake Braddock's running game. "Up front, it's a mentality that we want to impose on the other team. This was a great test for us playing a traditional, perennial runner like Robinson, just to see how we can match up and can we run the ball. Obviously, I think we can run the ball on them, but this is just a piece of the plan trying to run the ball down in the playoffs."
Edwards completed 10 of 17 passes for 97 yards and a touchdown. He was intercepted once.
Lake Braddock took a 7-0 lead on its first possession, when Edwards punched it in from 1 yard with 2:07 remaining in the opening quarter. The Bruins traveled 64 yards in 12 plays, using 4 minutes, 38 seconds.
Robinson's ensuing possession ended with a lost fumble, and Lake Braddock responded with a five-play, 52-yard drive, ending with an 11-yard touchdown pass from Edwards to David Fofi with 9:41 left in the second quarter.
Robinson lost another fumble at its own 14-yard line late in the first half and Lake Braddock capitalized with a 5-yard touchdown run by Atkins, extending its lead to 21-0.
The Rams fumbled four times in the first half, losing two.
"We were our own worst enemy in the first half," Robinson head coach Scott Vossler said, "but you've got to give a lot of credit to Lake Braddock."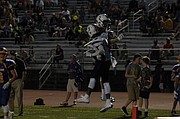 Robinson, a wing-T team that relies heavily on the ground game, generated points through the passing game in the fourth quarter. Miller did not attempt a pass in the first half and missed on both his third-quarter throws. The junior completed 4 of 9 attempts in the fourth quarter for 109 yards and two touchdowns, with Velasquez on the receiving end of all four completions.
"We work on that stuff all the time," Vossler said about the passing game. "We obviously want to do it on our own terms instead of when people force us to do it. It's something that we're open to doing if we feel like we've got that advantage. Quite honestly, I think [Lake Braddock's] secondary is pretty good and I think they might have got lulled to sleep a little bit just by not having to cover a whole lot throughout the game. I've seen those guys on film, and I think we might have got lucky a little bit tonight there at the end doing that stuff."
Robinson ran the ball 37 times for 131 yards. Dajon Lee finished with a team-high 52 yards on nine carries. Sean Foncha rushed 14 times for 36 yards, Roman Lowery carried eight times for 23 yards and Miller rushed six times for 20 yards.
Robinson defensive back Wes Richmond and linebacker Tyler Iriondo intercepted passes.
Lake Braddock will travel to face West Potomac at 7 p.m. on Friday, Sept. 25. Robinson will host Oakton.
"Honestly, 109-0 sounds great," Edwards said, "but being tested is what's going to help you go on in the playoffs."