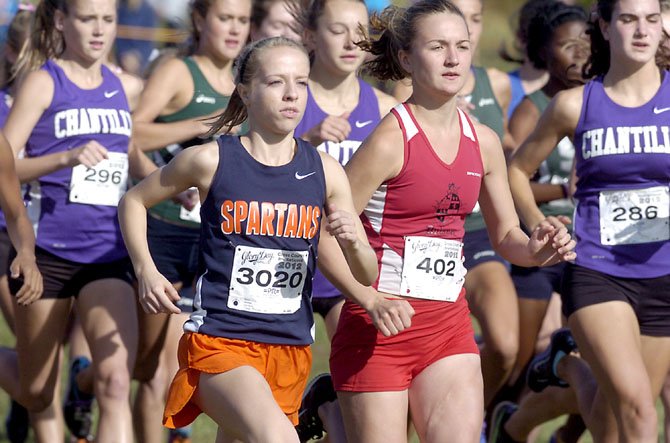 Centreville — West Springfield's Caroline Alcorta added an element of difficulty to the 20th Annual Glory Days Invitational when she accidentally ran the wrong way on the course at Bull Run Regional Park. As it turned out, a little adversity didn't derail Alcorta as the Spartan harrier's record-setting performance rendered all opponents—including wrong-way turns—irrelevant.
Alcorta won the event, setting a course record with a personal-best time of 17 minutes, 42 seconds on Oct. 13. Alcorta's effort helped the West Springfield girls' cross country team finish first with a total of 112, followed by Washington-Lee (119) and Chantilly (124).
"I'm kind of mad because at one point I actually ended up going the wrong way, so I feel like that may have cost me a couple seconds."

—West Springfield's Caroline Alcorta
"I'm kind of mad because at one point I actually ended up going the wrong way," Alcorta said, "so I feel like that may have cost me a couple seconds."
The previous course record of 17:49 was set in 2007 by James River's Kristen Wolfe. The meet record is held by Centreville's Laura Heiner, who posted a time of 17:23 in 1997. In 2005, the Glory Days meet underwent a course change.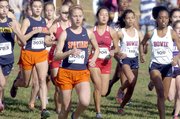 Alcorta finished 22 seconds ahead of her closest competitor. Georgetown Visitation's Emily Kaplan finished second (18:04) and Lee's Bailey Kolonich was third (18:15). Robinson teammates Lauren Berman (18:18) and Macey Schweikert (18:21) finished fourth and sixth, respectively.
"It was really odd. I was expecting [in] the first mile everybody would be right here," Alcorta said. "I think the fear of somebody coming back up on you when you go out so fast is probably the worst part. I wanted to look back so many times. The fear of being caught is definitely the worst."
West Springfield's Maddie Wittich placed seventh (18:33), Katie Kennedy was 17th (19:12), Erin Falk finished 42nd (19:49) and Ana Suarez was 63rd (20:18).
In boys' action, West Springfield finished fifth with a total of 234. Chantilly won the event with a score of 31, followed by Severna Park (91) and Georgetown Day School (163).
William Rabil (16:25) was West Springfield's top finisher, placing 26th.
Chantilly's McGorty Breaks Record
On Sept. 29, Chantilly senior Sean McGorty won the Great American Invitational in Cary, N.C., by producing the nation's fastest high school time, 14:43.6, a performance that would land him in Sports Illustrated's "Faces in the Crowd."
Two weeks later at the 20th Annual Glory Days Invitational, McGorty again produced a sub-15-minute time, missing his Great American mark by two seconds. He had to "settle" for a meet record and a pair of first-place finishes.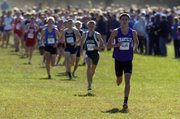 McGorty set a meet record with a time of 14:45 at the Glory Days Invitational, breaking the previous mark of 15:03, set in 2001 by Handley's Bobby Lockhart. McGorty's effort helped the Chantilly boys' cross country team win the team title with a score of 31, well ahead of second place Severna Park (91).
"I felt very strong," McGorty said after the race. "This course has been known to be fast.… I was hoping for sub-15. [To run] 14:45, I'm thrilled with that. That's a great time."
At the Great American Invitational, McGorty had competition pushing him until the end as he edged the second-place finisher by three-tenths of a second. On Saturday, McGorty ran unchallenged, finishing 18 seconds faster than his closest competitor.
"This one was a lot more mental, so I'm thrilled with being able to get that time," he said. "… I'm a lot more mentally stronger than I was at the beginning of the season."
McGorty's effort earned him mention in the Oct. 15 issue of Sports Illustrated.
"That was a huge honor. That was amazing to see myself in a magazine that I've been looking at my entire childhood."
Along with McGorty's effort, Chantilly's Logan Miller (fifth, 15:42), Faris Sakallah (10th, 15:51), Peter Malander (11th, 15:52) and Adam Huff (17th, 16:07) helped the Chargers take home the team title.
McGorty said the team has hopes of winning championships at the district, region and state levels.
"My teammates have been running awesome," he said. "It's been amazing to see them working so hard in practice and then seeing it all pay off out here. Training with them and doing all that has made the experience so much more special to me.… We knew we were going to be pretty good [but] we didn't know we were going to be this good, and I think that's definitely because of how hard they've been working. I think we have exceeded some of our expectations and that's been the fun part of it."
Miller said he's starting to run well after dealing with a nagging injury to his left shin that bothered him since outdoor track season.
"The hardest part was coming back and trusting it to run fast," he said. "But I'm glad I overcame that."