Potomac — St. Mark Orthodox Church will have its annual three-day ethnic food festival and bazaar this weekend, Nov. 2-4.
The bazaar will feature homemade Russian and Eastern European food such as piroghi, piroshki, spanakopita, halupki, beef stroganoff, kielbasa and more.
Photo Gallery
Ethnic Foods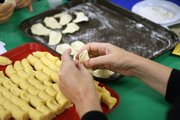 Church hosts its annual three-day food festival and bazaar Friday-Sunday, Nov. 2-4.
Click Photo for Flash
"Making and serving these ethnic foods not only raises money for our church's operations and educational projects, but keeps the traditions alive for our children," said Tina Burpee, event coordinator.
Burpee, who has been coordinating this event for the past 32 years, says that they see anywhere from 1,500 to 2,000 people come through over the course of the three days.
"Preparations start right after Labor Day and many of our members help in preparing the food in advance," Burpee said. "Our piroghi, potato and cheese dumplings, are a very popular item, year after year we get people asking for the recipe for that and other favorites" Burpee said.
There will also be religious books, jewelry, handmade gifts, homemade candy, baked goods, children's clothing, an egg decorating demonstration, a raffle room and a guided tour of the church at the bazaar.
"What I really like is that it brings our parish together and offers hospitality to our community and gives them an opportunity to see the orthodox church in a setting that is positive, warm and friendly," Matushka Alexandra Safchuk said.
Piroghi
(Potato and Cheese Dumplings)
Dough
10 lb all-purpose flour
1 tsp salt
48 oz. sour cream
12 eggs
4 cups water
Filling
1 stick of butter
1 lb. onions
4 quarts + 1/2 cup water
8 cups sharp cheddar cheese
6 cups instant potatoes (2 lb. 11 oz.)
2 Tbsp. salt
1/2 tsp. white pepper
Pam spray
Directions:
FOR DOUGH: Mix flour, water, egg, sour cream and salt together. Knead on a lightly floured surface until smooth. Dough can be frozen ahead of time then thawed completely before use.
FOR FILLING: Puree onions in food processor. Sauté in the butter for about 10 min. Spray pot with Pam. Add water, cheddar cheese, onions and salt and pepper. Put lid on pot to let steam melt cheddar cheese. Add instant potatoes and mix until smooth. Let cool completely before use.
To assemble, roll potato filling to 3/4 inch balls and set aside. Roll out dough by hand or with pasta maker. Cut into 3 inch circles on floured board. Place one ball of potato filling in the center of each circle. Fold dough in half over filling and seal edges of dough by pinching. Sprinkle lightly with flour to hold until cooking the same day.
To freeze for later use: To prepare piroghi for freezing, cook in boiling water briefly just until they rise to the top. Plunge quickly into ice water to stop the cooking process. Dip lightly in oil to prevent sticking when frozen. Drain on wire rack and place in plastic freezer bags.
When ready to serve, thaw completely. Melt 1 stick of butter and 1 cup of chopped onions in skillet. SautÈ onions for a few minutes, then place piroghi in skillet in single layer and sauté until lightly browned. Serve with sour cream. Makes about 100 piroghi.
"We offer a variety of ethnic foods that are comforting after a big storm, and we are hopeful that we will see a lot of people over the weekend," Safchuk said.
St. Mark Church is located at 7124 River Road, Bethesda. Hours are 11 a.m. to 8 p.m., Friday, Nov. 2 and Saturday, Nov. 3 and noon to 4 p.m., Sunday, Nov. 4.
Call 301-229-6300 or visit www.stmarkoca.org. During Bazaar hours, call 301-229-9720.
Spanakopita
(Greek Spinach Pie)
4 packages frozen spinach, thawed and squeezed dry
5 large eggs (beaten well)
1 cup white onions, chopped
1 bunch spring onions
2 Tablespoons dried parsley leaves
OR 1/2 cup fresh parsley leaves (chopped)
1-1/2 cups cottage cheese
16 oz. (1 lb.) feta cheese, crumbled
2 tablespoons dry mint leaves )
OR 1/2 cup fresh mint leaves (chopped
1/3 cup olive oil
salt and pepper to taste
1 box filo (phyllo) pastry leaves
3-4 sticks butter
Use 4 sheets of filo (#7 thickness) on the top and 4 sheets on the bottom of each spanakopita.
Fits in a 2 _ deep 9 _ x 13 _ aluminum pan.
Green Beans Viennese
1 20-oz. package frozen cut green beans
1/4 cup chopped onion
1 TBL butter or margarine
1 TBL all-purpose flour
1/2 teaspoon salt
dash of pepper
1/2 cup chicken broth
2 TBL snipped parsley
1 TBL apple cider vinegar
1/4 tsp. dried dill weed
1/2 cup dairy sour cream
Cook green beans according to package directions; drain. Meanwhile, in saucepan cook onion in butter or margarine until tender. Stir in flour, salt and pepper. Add broth, parsley, vinegar and dill. Cook and stir until bubbly. Stir in sour cream. Add to drained beans. Heat mixture through, but do not boil. Turn into serving bowl. Makes 8 servings.