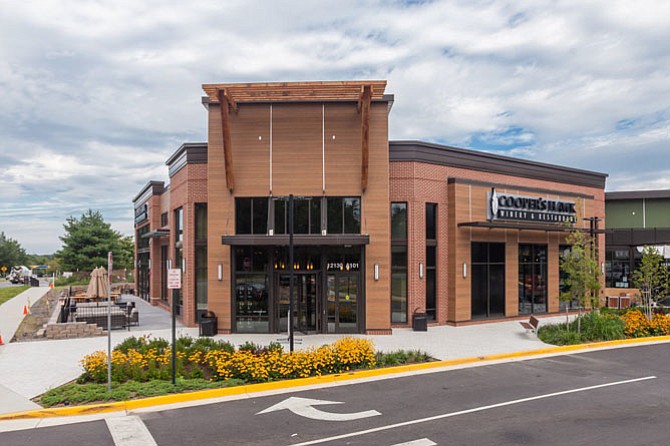 Herndon — With the late August opening of the ultra-glamorous Cooper's Hawk Winery and Restaurants Reston
"The French chef taught epicurean cuisines, and he impacted me with the basic culinary principles: pay attention, respect food, and understand how making dishes comes together and sets us apart."
— Executive Chef Laurence Cohen
location, upscale dining got another member in an elite gathering of area restaurants. With its expansive dining area and bar seating plus the enclosed private section, Cooper's Hawk beckons to local wine lovers who seek quality wines: ultimately the menu items pair well with the wines. Indeed, at the main entrance patrons find a wine-tasting room that will make people feel like they have come to a Napa Valley winery — only this is in Reston.
The brainchild of owner/founder-CEO Tom McEnery, Cooper's Hawk with its numerous locations, takes an unusual approach to dining out: wine and wine pairings take center stage. McEnery's idea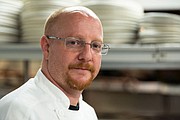 for this extensive restaurant group came after he had worked in a specialty restaurant in Illinois.
A graduate of Purdue with a degree in Restaurant and Hotel Management, McEnery had the restaurant training and business background to initiate a unique restaurant business. This he did 12 years ago, when he realized that few wineries had their own restaurant. So as an ardent lover of wine and high-end cuisine, he and his wife launched their first restaurant in Orland Park, Ill.
Since then, the brand has spread across the Midwest and the Southeastern US: Reston's Cooper's Hawk makes 30 restaurants in all. McEnery has also established a Cooper's Hawk wine production facility in Illinois, where about 60 different wines are aged and bottled. Not surprisingly, the Cooper's Hawk wine labels are the only ones the restaurants sell.
But besides the compelling wines, of course, comes the outstanding dishes served on the extensive menu that features such appetizers as candied bacon and artisan cheeses and Mexican drunken shrimp to soups and main course salads to assorted burgers and sandwiches (what about a peppercorn ranch burger?); luncheon entrées; and select chicken, beef, and seafood entrées. And, yes, pasta…and whatever else one might want to order, never, ever skip the gnocchi carbonara, made in-house and paired with pancetta, chicken, peas, and sheets of Parmesan cheese.
IN CHARGE OF Reston's Coopers Hawk's kitchen crew is executive chef Laurence Cohen, who comes to this job with years of top-class experience. And he started cooking as a child with his mother and grandmother, where he got to experiment with different recipes. Cooking was not his first career choice, but something he began as the result of an accident elsewhere. He soon realized, however, that he loved cooking, and attended the Baltimore International Culinary College, after which he went to work with a French chef in Ireland. "The French chef taught epicurean cuisines," he said, "and he impacted me with the basic culinary principles: pay attention, respect food, and understand how making dishes comes together and sets us apart."
And before heading off to the kitchen to resume his cooking duties, Cohen paused and noted, "I love food and I love cooking. It is more and more appetizing."
Cooper's Hawk Gnocchi Carbonara
The restaurant's most popular dish, and no wonder…If you wish, add shrimp or pulled chicken to the dish when the cream begins reducing.
Serves 2 to 4
Ingredients:
2 tablespoons extra virgin olive oil
2 tablespoons butter




























Two 1/8-inch-thick slices pancetta, cut into 1/4-inch x 10-inch slices
20 ounces cooked gnocchi, precooked and cooled
2 garlic cloves, thinly sliced





























1/2 cup Cooper's Hawk chardonnay











1 cup fresh chicken stock






















2 ½ cups heavy cream
Kosher salt and fresh cracked black pepper to taste
2 tablespoons finely chopped fresh sage
½ cup peas
1/3 cup Reggiano Parmesan cheese, grated
Freshly shave Parmesan cheese
Procedure
In a medium-hot pan, add the olive oil and butter. When butter melts and turns slightly brown, add sliced pancetta. Toss until pancetta starts to brown. Add gnocchi and toss until gnocchi browns slightly, 3 to 4 minutes. Remove from pan, and set aside. Add the garlic, and toss until garlic softens, about 1 minute. Do not brown garlic.

Add wine, and reduce by half; add chicken stock, reduce by half, and add cream, and bring to simmer. Begin to reduce sauce, add gnocchi, and cook over medium-low heat until the sauce coats the back of a spoon. Season to taste with kosher salt and fresh ground black pepper. Add sage, peas and ½ of the parmesan cheese and stir to incorporate.

Remove to a platter and garnish with the remaining freshly shaved Parmesan Cheese.
Making Fresh Gnocchi
Ingredients:
1 Pound Golden Yukon Potatoes
3 to 4 Large Egg Yolks
1/2 cup Freshly Grated Parmesan Cheese
1/4 tsp Freshly Grated Nutmeg
1/2 tsp sea salt
1/4 tsp freshly ground black pepper
1 cup all-purpose flour, plus more for dusting board and dough
Method
Bake the potatoes in a preheated 400 degrees F oven for 1 hour until fork tender. Let sit until cool enough to handle, cut in half, and scoop out the flesh.
Pass the potatoes through a potato ricer. Make a mound of potatoes on a table or work surface with a well in the middle, like making pasta, add 3 of the egg yolks, the cheese, nutmeg, salt, and pepper. Mix in the potatoes and mix well with fingers. Sprinkle 1/2 cup of flour over the mound and, using your fingers, press it into the potatoes. Fold the dough over on itself and press down again. Sprinkle on more flour, little by little, folding and pressing the dough until it just holds together, (do not to knead it.) Work any dough clinging to your fingers back into the dough. If the mixture is too dry, add another egg yolk or a pinch of water. To test if the dough is the correct consistency, take a piece and roll it with your hands on a well-floured board into a rope 1/2-inch in diameter. If the dough holds together, it is ready. If not, add more flour, fold and press the dough several more times, test again.
Keeping work surface and dough lightly floured, cut the dough into 4 pieces. Roll each piece into a rope about 1/2-inch in diameter. Cut into 1/2-inch-long pieces. Lightly flour the gnocchi as you cut them. You can cook these as is or form them into the classic gnocchi shape using the back of a large fork.

As you shape the gnocchi, dust them lightly with flour and scatter them on baking sheets lined with parchment paper.

When ready to cook, bring a large pot of water to a boil and add a few TBL of salt. Drop in the gnocchi and cook for about 90 seconds from the time they rise to the surface. Remove the cooked gnocchi with a skimmer, shake off the excess water, toss with a bit of oil and cool on a sheet pan in refrigerator until ready to use.